Dump Halliburton
Rachel Maddow discusses her prescriptions for the military and her new book, Drift.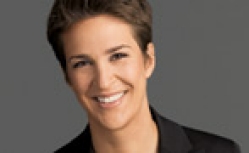 In the final segment of the her interview with Slate's Jacob Weisberg, Rachel Maddow discusses some of the topics of her new book, Drift, due out in March 2012. Maddow highlights how the decision-making process of the American military has become divorced from the democratic process, making it far too easy and streamlined to use force worldwide. Maddow points out that declaring war should be "an awkward and calamitous process. It should be a big mess." Ultimately, she agrees, that bureaucracy is a much bigger threat to civilian control than any Doctor Strangelove-type figure.
Maddow also identifies the biggest perpetuators of this problem, and points a finger sharply at Halliburton. Using contractors for everything from guarding embassies to peeling potatoes is a relatively new idea, making it far too easy for the United States to stage military interventions and bringing with it with many moral hazards.
Watch Maddow's full remarks: