"I Am Not Trying To Change the Country"
How Rachel Maddow handles gay rights on her show.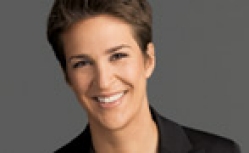 As an openly gay host of a primetime news program, Rachel Maddow knows she has a ready-made platform on the issue of gay rights. But the MSNBC host says she doesn't let her own sexual identity dictate her editorial choices on issues like same-sex marriage.
Maddow recently sat down with Jacob Weisberg for the latest interview in our ongoing series "Conversations With Slate." Here's the third installment.
Look out for one more excerpt from the Maddow interview in the days ahead, along with an audio podcast of the entire conversation.