Why Liberals Are More Coherent Than Conservatives
MSNBC's Rachel Maddow pines away for rigorous political debate in Conversations With Slate.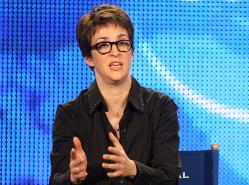 Rachel Maddow loves a good argument. As long as it's over substance, something she says is in short supply as the 2012 presidential campaign kicks into gear.
Here's part 2 of the interview:
Here's part 3 of the interview:
Advertisement

Here's part 4 of the interview:
Look for an audio podcast of the entire conversation in the coming days.





















TODAY IN SLATE
Politics
Talking White
Black people's disdain for "proper English" and academic achievement is a myth.