A Major Problem With the FAA Plan to Register All Drones
It will be very difficult to figure out what to do about the DIY ones.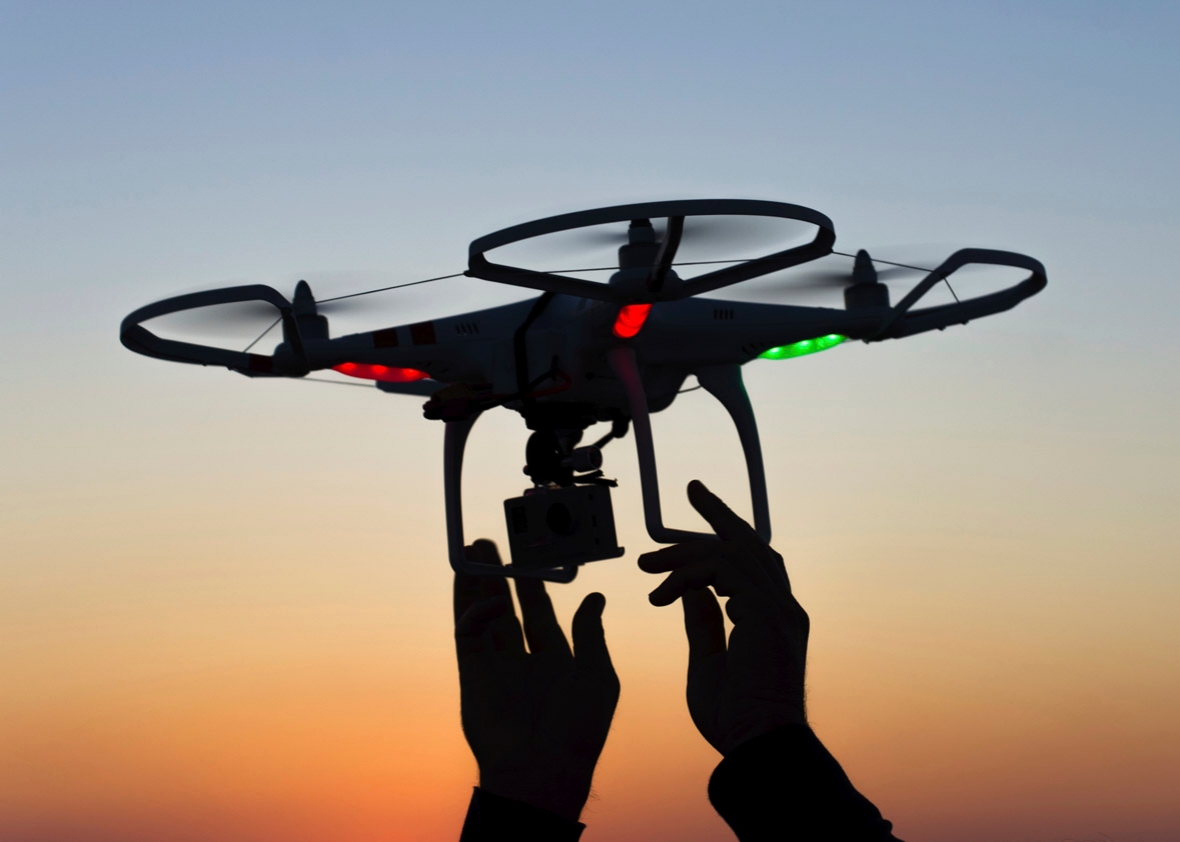 Thanks in large part to the rise of inexpensive smartphone components, (such as tiny processors and tiny sensors), making a drone yourself has gone from an esoteric pursuit to the sort of thing a student might do with her mom or dad after school. As someone without any tinkering background, I was surprised at how easy do-it-yourself drone building was when I tried it at my graduate school's drone club—sure, there was a tiny bit of soldering, but mostly the process involved hot glue, duct tape, and connecting different electrical components in the right places. In some DIY circles, going out and buying a drone is considered a bit of a cheap move, an admission you can't be bothered to learn some relatively simple tech skills.
So, how is the FAA going to keep up with drones built with parts bought from different locations, borrowed from other people, or even 3-D-printed? I went searching for other DIY devices that are regulated in the United States, looking for parallels—and it turns out there are a number of them, given that the currently hip maker movement is really just a resurrection of some hoary American traditions.
Irritated drone pilots like to mention that certain single-occupant manned aircraft designated as "ultralight"—this would include some gliders and gyrocopters—are designated not as aircraft but as vehicles. Most ultralight vehicles don't have to be registered with the FAA, and you don't need a license to fly one.
Yet another problem with DIY drone registration comes down to definition. The very word drone still doesn't have a fixed definition in American culture, and the FAA's announcement did not define which flying devices would be subject to the new rules. What qualifies as a drone and what doesn't, and what part of a drone "is" the drone—especially when the device is cobbled together from various parts, from different sources?
A drone could perhaps be defined by its flight controller, which is best understood as the drone's "brain," controlling all the other components and helping the craft stay stable in the air. The problem here is that flight controllers can be swapped from drone to drone in a matter of minutes, and some multipurpose controllers can be used inside of both land and air vehicles that are very different from one another. Another problem: Flight controllers are easy to make and cheap to acquire from many different, small-time sources—and as this 16-year-old kid in the Philippines demonstrates, it's quite easy to just make your own with an Arduino-based module if you don't want to buy one.
So, there's some precedent for registering DIY devices and maybe some ideas on how it could be done, but it remains to be seen how exactly the FAA will go about registering drones that don't come from a store. There is little precedent for the FAA's goal of registering every single drone: While a number of nations already have drone laws in place (like Australia, France, and Canada), none have attempted a universal registration requirement. Drone builders, many of whom have been calling for final regulations for years, are understandably wary—concerned that strict registration policies could legislate the DIY hobby out of existence.
That would be a real loss. The vast majority of DIY drone-makers are innocent, inquisitive geeks. They've also got skin in the game: Due to the time and sweat equity they've invested in their home-built devices and in the hobby as a whole, they're generally much less likely to do dumb or risky things when they fly, as opposed to someone whose interest in drones only extends to picking up a cool toy for the holidays. Making it harder for DIY builders to operate would target the exact wrong trouble-making demographic.
What's more, cracking down on DIY electronics would impact more people than just drone-makers. Many DIY drone components can be used for a wide range of projects, from ground-dwelling remote control cars to electronic jewelry. The surging maker movement—ferried along both by a slouching economy and an increasing cultural emphasis on tech and DIY skills—now attracts thousands upon thousands to its worldwide gatherings, which highlight homemade projects from across the spectrum. Many people of all ages say they've felt empowered by learning how to make their own stuff, from drones to pickles to hydroponic gardens to giant flame-breathing robots. I'm in that group: Thanks to drone building, I've gone from a total electronics ignoramus to someone who can actually explain how an electronic speed controller works.
While the FAA absolutely needs to regulate drones, it's imperative that the new registration requirement will be well thought out and carefully implemented. New drone regulations and requirements should be accompanied by a full-court-press effort at educating the public, many of whom remain unaware that there are any drone restrictions at all. The learning opportunities, innovation, and fun of DIY drones shouldn't be erased by overzealous regulation—and aspirant drone pilots shouldn't be restricted to off-the-rack options.