Welcome to the World of Professional Drone Racing
The birth of a 21st-century sport—yes, sport.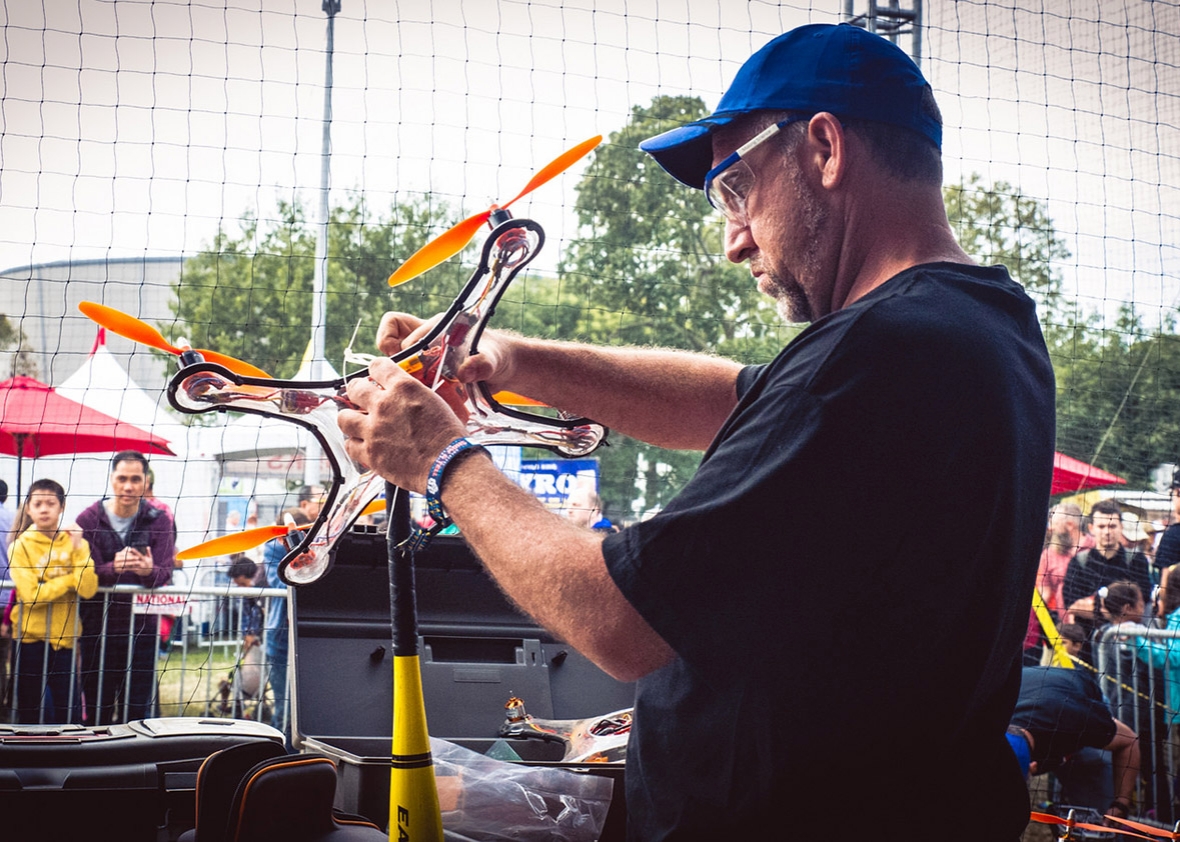 NEW YORK—The quadcopter is not much bigger than an iPad, but it can travel at up to 80 miles per hour, and it's equipped with neon-green propellers and an antenna that make it resemble a large, inquisitive insect. "It kind of looks like a frog, so I've named it Frogger," drone pilot and builder Erich Bitonio says. He's fond of it, but as a FPV (first-person view) drone racing pilot, he's also willing to break it—sending it through hairpin turns, flipping and feinting, and working to be the first over the finish line.
He wasn't alone: In September, Bitonio was one of a few dozen drone pilots who gathered at the sixth annual World Maker Faire 2015 DIY festival in Queens and flew under the red-and-blue banner of the new Aerial Sports League. ASL's founders, Californians Marque Cornblatt and Eli Delia believe that drone competitions—from FPV racing to combat piloting to fixed-wing maneuvers—will be the next big sports sensation, selling out stadiums, attracting sponsorships, and garnering millions of online viewers. (Full disclosure: They're also longtime friends of mine.) Maker Faire—with sponsorship funding from Chinese drone-maker DJI and tens of thousands of visitors expected—seemed like the natural place to introduce eager techies to the sport, and perhaps inspire them to take up drone racing or fighting.
When I arrived at Maker Faire, I found the drone sporting events taking place in an area dedicated entirely to drone technology, with booths for DJI and for independent drone-makers (many of them high school kids), plus two netted areas set aside for drone racing and drone fighting. The drone-racing track was set up with red and blue flags and fabric tunnels, designed to force the drone pilots to make exceptionally difficult high-speed maneuvers. Racing pilots sat outside the safety nets and tested their gear, donning black FPV goggles that gave them a live view of what the drone "saw" as it flew through the track, via a tiny onboard camera capable of transmitting back a live video feed while another tiny camera records video footage. The drone fighting net was tall and narrow, permitting the ruggedized combat quadcopters to gain a bit of elevation before the pilots attempted to forcefully slam them together.
The racing net and the fighting net were separated by a tented bank of white tables, which were strewn with drone parts, assorted snacks, soldering irons, and power cables: the drone pit, where pilots constantly retreated to fix broken wires or replace fried motors.
Here Aerial Sports League director of technology Reiner Von Weber took a ruggedized orange quadcopter through its paces, lifting it off the ground and feinting it deftly, waiting for another drone pilot to step into the net to begin a combat heat. In the battle, he'd try to knock the other drone out of the sky or into the netting and keep it there. When a drone went down, the pilot would get 90 frantic seconds to repair the device and get it airborne again. But each pilot only had three chances to hit the ground or get tangled in the netting before officially losing the match. The drones moved fast and hit the ground forcefully, snapping propellers and kicking up dust—the pilots wore thick safety goggles, in anticipation of flying plastic and electronic components. Broken propellers in multiple colors littered the ground, and kids in the audience aggressively collected and traded them like valuable currency.
As the races and fights got going and crowds of attendees began to stream into the Maker Faire grounds, ASL announcer Jay Shoemaker sat in his chair track-side and began the loud patter he'd keep up for the next two days, announcing the pilots and drawing people toward the bleachers. "Please try this at home!" he repeated—a pointed call for the attendees to start building and flying themselves.
Cornblatt and Delia have been working on their do-it-yourself drone sports league since mid-2014. Initially, they focused on making ruggedized combat drones before realizing that the high-adrenaline pursuit of FPV drone racing was becoming increasingly popular among the YouTube and Facebook communities of the drone world. They hope to build the league into an organizing body and entertainment property, setting up live races, streaming battles and racing showdowns live on the Internet, and advocating for drone sports across the country—with a special focus on convincing both kids and adults to start building their own gear, the exact mission of the Maker Faire event. They're not the only aspirant drone racing moguls: In August, Miami Dolphins owner Stephen Ross invested $1 million in a New York drone racing league that has yet to hold a public race while the first ever U.S. National Drone Racing Championships competition took place in Sacramento in July 2015, with cash and other prizes totaling $25,000. Other small drone racing leagues have popped up across the country, each with a slightly different strategy and vision for what the future will hold.
So is drone racing really a sport? I think it is, but it is a sport that exists in the same complex gray area as professional and sponsored video game players, or NASCAR drivers, or aerobatic jet pilots—pursuits where success depends far more on quick reflexes and strategic thinking than physical mass or speed, where human ability and mechanical innovation are fused into something we can't exactly define. For their part, the Aerial Sports League crew are comfortable with this particularly modern gray area, though they point out that unlike video game competitions, their competitions at least take place outside.
"You don't have to be an extreme athlete, but you're in the field, you're going to get a little exercise—it's a cross between a video game and being out in the real world," says Cornblatt. "I think parents like it because it gets their kids out of their room, away from Xbox." And kids, of course, like it, because as Delia explains, "I'm a superhero when I fly. You put those goggles on, you're a James Bond supervillain. It's out of this world."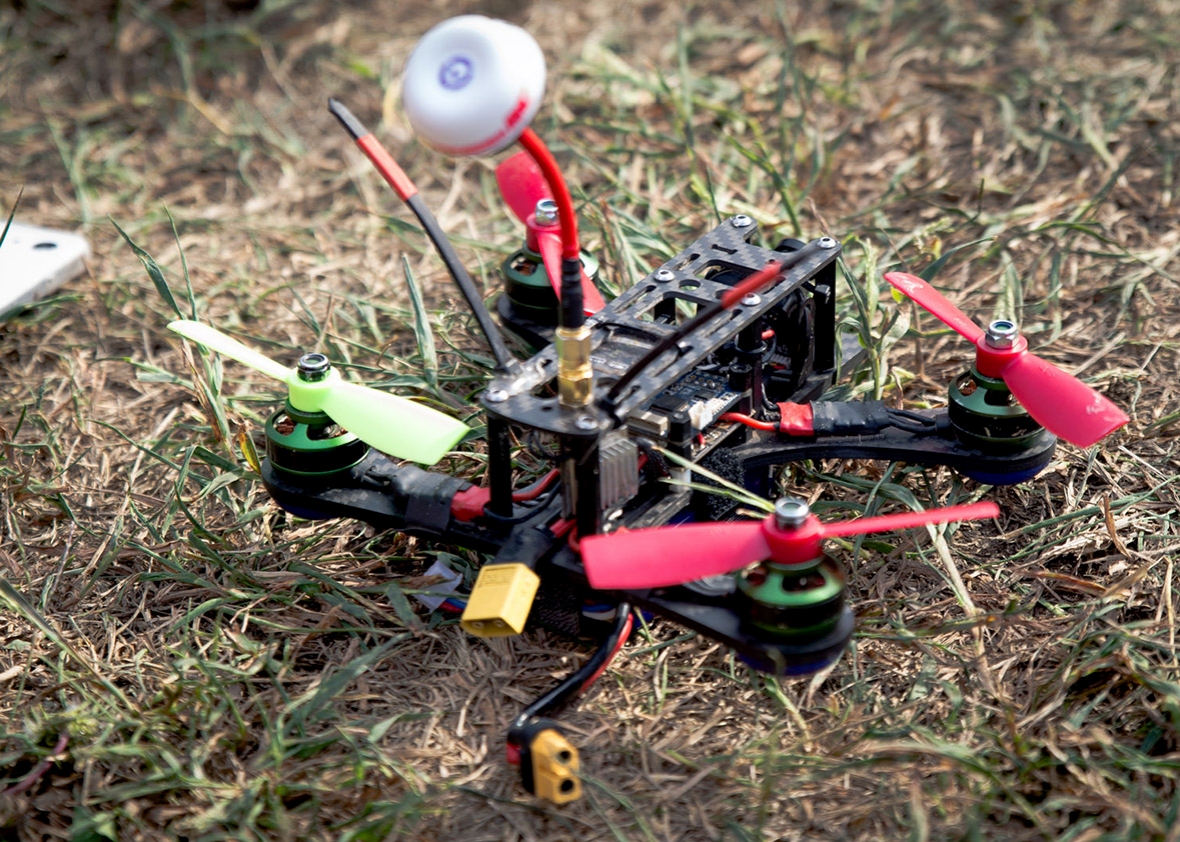 Good pilots often speak in rhapsodic, quasi-religious terms about drone racing. How being good at it gets them in the zone, how it lets them flow—or simply gives them a sense of bliss that they can't get anywhere else. "It's a grounding out-of-body experience—you're the hummingbird," says Von Weber. "I can't afford an airplane, but I can afford a drone, and therefore take myself to places a helicopter or an airplane would never be able to go."
There are still some bugs to work out—like what the rules are, besides making it to the finish line without crashing. "There's no set rules here, just experimentation," says Delia. "Drone racing in the mainstream is just six months old. The rules are liable to change next week with a new build."
Crashing, too, is a persistent problem. While most drone racers take to it quickly—experience with video games helps—maneuvering an exceptionally speedy drone around a closed netted course is still a difficult proposition, requiring repeated practice, freakishly quick reflexes, and perhaps an innate understanding of physics. At Maker Faire, drone after drone hurtled at high speed into the netting, getting stuck like enormous, spiny insects—and no one was permitted inside the course without a pair of plastic safety glasses and a certain brazen willingness to take a propeller to the face. Speed often loses to skill: "It's like the tortoise and the hare—the tortoise usually wins," says Von Weber.
Then there is the build. No one really buys a racing-suitable drone off the shelf. They have to be modified and tweaked, and since they crash (and break) regularly, maintenance is constant—just like with auto racing. The best pilots are also accomplished builders—adept at using soldering irons, programming flight controllers, and deducing which combination of motors, batteries, and electronic speed controllers will produce the fastest flying robot. "I love going into the garage and tweaking something and seeing a real difference in the field," says drone pilot Kenneth Loo.
Builders anthropomorphize their drones a little, speak of them in proprietary terms, and mourn a little when they die. Drone combat competitor Edie Sellers had constructed her purple-and-pink Barbie Dream Drone more than two years ago, a feminine standout of a design in a distinctly dude-dominated sport. She glued a sparkly tiara to its top at an earlier Maker Faire.
But in NYC, Barbie was flying erratically, after lasting to a decidedly advanced age for a flying robot designed to smash into other flying robots—Sellers suspected a malfunctioning flight controller, a brainlike part that carries out complex flight calculations and keeps the drone aloft and stable.
"This is the last flight of Barbie," Sellers said, wistfully, as she brought the drone in after a wobbly trip around the arena. "I'm a little teary eyed. I'm going to change the flight controller, but it's not the same. You couldn't see the difference, but it won't be [the same]. It's like if you took out my brain—I wouldn't still be Edith."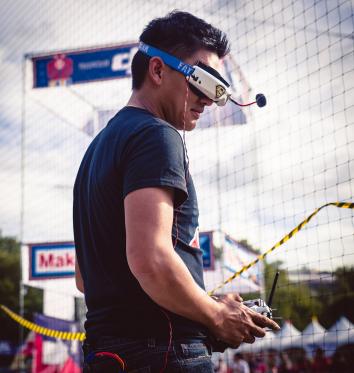 The drone racing community is nascent, but it is beginning to produce standouts, stars. Californian FPV pilot Carlos Puertolas goes by the alias of "Charpu" and has more than 34,000 followers on YouTube. They eagerly watch his slightly nausea-inducing videos and attempt to imitate his flying style and building techniques, to capture a bit of the technological magic. Everyone in drone racing hopes that the best pilots will rise even further, maybe leading to television shows, soft drink sponsorships, fans eager to buy their likeness on a collectable bobblehead figurine.
Maker Faire's most likely candidate for fame was Loo, a young and photogenic product design engineer with a lifelong obsession with remote control vehicles and an intensive practice regimen. At the races, Loo steered his self-made "Green Meanie" bird to victory, wiping the floor with his opponents and occasionally throwing in a showy flip or turn for the spectators, who'd cheer or gasp at the right intervals. While the audiences were engaged, the racing drones themselves were small and hard to see. In the future drone racing leagues will likely start handing out their own FPV goggles to bystanders, so they can see the same first-person action the pilot is seeing, or maybe projecting split-screen versions, like a game of Mario Kart. After one race, a pair of excited kids came up to Loo, begging for an autograph: He signed the paper and posed for a photo, beaming. "He got to sign his first autograph!" his wife said.
As the first day of the action wound down and the drone races dropped in frequency due to both pilot fatigue and broken equipment, a skinny kid on an electronic hoverboard dropped by the arena, trailed by a young blond woman and a woman in a pink headscarf who appeared to be his sister. It was the now-famous Ahmed Mohamed, a special guest of the NYC Maker Faire. He had come to look at some drones. Bitonio jumped at the opportunity. "I've got a quadcopter right here for you!" he said, and Ahmed followed him happily into the battle arena. Bitonio walked Ahmed through the basics, showing him how to lift the little drone off the ground, how to moderate its altitude, how to steer it. He picked it up quickly and smiled.
"I brought that quadcopter just in case he'd show up," Bitonio said happily after Ahmed had gone. The kid was indisputably famous, but his interest in the drone mirrored the interest of a lot of other kids who'd seen the drones at Maker Faire, who liked the idea of building something, crashing it, and flying again. If the Aerial Sports League sees its vision through, Ahmed and his generational ilk may represent the first generation of drone sports fans and pilots, taking their video game skills into the real world. And perhaps someday we will see drone racing on television on Sundays, right before football.