Exploring Family History in Words and Pictures
An interview with Alison Bechdel.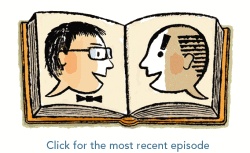 Listen to Episode 11 of The Afterword:
In her Slate review of the book, Meghan O'Rourke declared that "Alison Bechdel's new 'comic drama' Are You My Mother? sets out to examine the cartoonist's relationship with her mother; not coincidentally, it ends up exploring a host of big topics, including the nature of emotional attachment and the idea of the 'self.' " In this interview, Bechdel discusses the new graphic memoir's themes and how the success of her last book, Fun Home, affected her work. She also talks about her writing process, why she feels compelled to portray intimate moments in her work, and her thoughts on "the Bechdel test." (In June, Slate's Audio Book Club will discuss Are You My Mother?)
The Afterword, which appears in the Slate daily podcast feed every other Thursday, features interviews with the authors of new nonfiction books. The next discussion, available on May 24, will feature Edward Humes, author of Garbology: Our Dirty Love Affair With Trash.
Podcast produced by June Thomas. The executive producer of Slate's podcasts is Andy Bowers.