Announcing the Return of the Audio Book Club
In June we'll be discussing Are You My Mother? by Alison Bechdel.
Are You My Mother? is a sequel of sorts to Fun Home, Bechdel's best-selling 2006 graphic memoir about her father, and like that book is ambitious, superbly funny, and hauntingly searching … Near the start of the book, Bechdel observes that "the real problem with this memoir about my mother is that it has no beginning." She adds, "The story of my mother and me is unfolding even as I write it." No beginning, and no ending—it doesn't bode well. But for most of us a mother is a story with neither beginning nor end, it turns out, and so this peculiarity is part of the strange power of this singular book.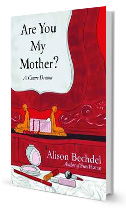 A month from now, in our June issue, we'll reconvene the Slate Audio Book Club for a freewheeling conversation about Bechdel's knotty, intricate book. The new version of the Audio Book Club will feature many familiar voices as well as some new ones. The podcast will be hosted by Dan Kois, editor of the Slate Book Review, joined by a rotating cast of Slatesters. For the Are You My Mother? discussion, we'll welcome culture critic Meghan O'Rourke and senior editor Emily Bazelon; future podcasts will include regular appearances by senior editor Hanna Rosin and "Brow Beat" editor David Haglund.