Table to Farm: Frittata Edition
Slate's show about the ethicality of eating eggs and the practicality of keeping chickens, with special guest Peter Singer.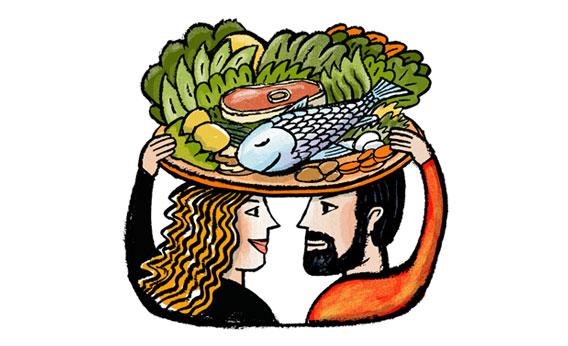 Listen to Table to Farm No. 2 with L.V. Anderson and Dan Pashman by clicking the arrow on the audio player below:


On this week's episode, Laura and Dan chat with Princeton bioethics professor Peter Singer about the ethics of eating eggs, the possibilities of in vitro meat, and which animal he would eat if all animal products magically became ethically unproblematic. Dan explains why guilt might not be the best tactic for getting people to change their eating habits. Then they head over to the urban farm at the Bed-Stuy Campaign Against Hunger in Bedford-Stuyvesant, Brooklyn. There, they meet Rollie Hernandez and Denroy "Champs" Stoner, two volunteers; Tamara Dawson, the program director for BSCAH; Claire Lynch, the Americorps Vista volunteer for BSCAH; several chickens; and one cat. They talk to Rollie, Tamara, and Claire about what it's like to keep chickens in their backyard on one of the busiest streets in Brooklyn. Finally, Laura cooks Dan a frittata and expounds on her love for frittatas of all varieties.
Greens and Feta Frittata
Yield: 2 or 3 main-course servings
Time: 45 minutes
1½ pounds collard greens or kale
Salt
3 tablespoons extra-virgin olive oil
1 large yellow onion, chopped
3 garlic cloves, minced
Black pepper
6 large eggs
3 ounces feta cheese, crumbled
¼ cup chopped fresh dill or 2 teaspoons dried dill weed
1. Heat the oven to 400°F. Bring a kettle of water to a boil. Remove the thick stems and ribs from the greens and discard them; roughly chop the leaves and put them in a large heatproof bowl. Sprinkle the leaves generously with salt, then pour the boiling water over them and let them sit for 10 minutes.
2. Meanwhile, put the oil in a large ovenproof skillet over medium-high heat. When it's hot, add the onion and garlic and season with salt and pepper. Cook, stirring occasionally, until they begin to soften, about 5 minutes. Drain the greens well and add them to the skillet; cook, stirring occasionally, until they're very tender, 10 to 12 minutes.
3. In a medium bowl, beat together the eggs, feta, and dill, along with some salt and pepper. Turn off the heat under the skillet, pour the egg mixture over the vegetables, and stir very gently just to distribute all the ingredients evenly in the skillet. Transfer the skillet to the oven and bake until the top of the frittata is firm and the edges are golden brown, about 20 minutes. Cut into wedges and serve hot, warm, or at room temperature. (Store leftover frittata wrapped in foil or plastic wrap in the refrigerator for up to a few days.)
Here are links to some of the things we discussed this week:
Bed-Stuy Campaign Against Hunger's website.
Just Food's City Chicken Project, which helps organizations like Bed-Stuy Campaign Against Hunger build coops.