Everything You Need To Know About Occupy Wall Street
A timeline of the movement, from February to today.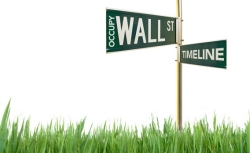 Did Mike Bloomberg accidentally save the Occupy movement? In the early hours of Tuesday, when the NYPD started to break up the camp at Zuccotti Park, polling showed that the anti-Wall Street protesters were slipping a bit. Coverage of their actions was slipping, lost in the haze of Herman Cain stories, Demi Moore marital decisions, and What Joe Paterno Knew. By Tuesday morning, cable news networks were covering the Occupiers with news choppers. Here's what the movement's been doing while you were (and weren't) looking.
Infographic by Jenny Livengood.