A New State Joins the Gay-Marriage Map
Welcome to the party, Hawaii.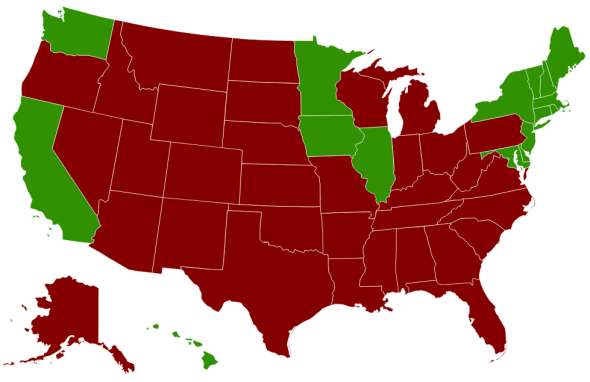 Gay marriage allowed statewide      Gay marriage not allowed statewide
Update, Nov. 15, 2013: Hawaii is now shaded green on this map after Gov. Neil Abercrombie signed a bill on Wednesday legalizing gay marriage. Hawaii will start issuing marriage licenses to gay couples on Dec. 2.
Original post, Nov. 6, 2013: The Illinois state legislature legalized same-sex marriage on Nov. 5, putting the state on track to join 14 others and the District of Columbia in allowing gay couples to wed. The bill, passed by the state legislature with a 61–54 vote in the house and a 32–21 vote in the senate, will now go to the Democratic Gov. Pat Quinn, who has said he will sign it. Gay couples will be able to marry in Illinois starting June 1.