Can George R.R. Martin Keep Up With HBO's Game of Thrones? Probably.
HBO's Game of Thrones vs. George R.R. Martin's writing speed, charted.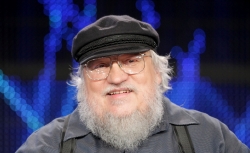 Martin writes The Winds of Winter:
3.75 years?
Martin writes A Dream of Spring:
3.75 years?
Many Game of Thrones fans worry that George R.R. Martin may not be able to finish the remaining two books in his A Song of Ice and Fire series fast enough to keep up with the HBO series. In an appearance on Conan, Martin said the HBO show is "moving like a freight train." But maybe there's nothing to worry about. The above chart uses the average time between Song of Ice and Fire book releases to predict the times Martin will complete the remaining two books and compares this with the expected schedule of the show, which is supposed to run for eight seasons. (The third book was split into two seasons.) If Martin writes as fast as he normally does, he will have a little time to spare. It'll be close, but he'll make it.
This, of course, assumes Martin doesn't take an exceptionally long time with the final two books—and he might. On Conan he described The Winds of Winter as a "fifteen-hundred page monster," which would make it as long as A Dance With Dragons. If the last two take the six years that Martin took to release A Dance with Dragons, then expect the HBO show to go on hiatus or produce an ending based on hints from Martin. And who knows that there won't ultimately be eight or more books? The series was originally supposed to be a trilogy.
Still, there are bigger problems to worry about—for example, hiatus or no hiatus, the teenage actors who play Arya, Bran, and Sansa are growing up much faster than their characters. Then again, maybe their characters will die in horrendous fashion before that becomes too noticeable.