The U.S.'s Low Standards for Teacher Training
Country-by-country training requirements for high school teachers.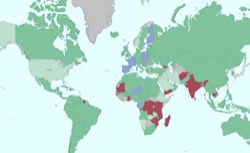 The U.S. public education system is trying any number of techniques—from charter schools to presidential initiatives to oil-company-run teacher academies—to catch up to countries like Finland and South Korea in math and science education. But policymakers seem to be overlooking one simple solution: requiring math and science teachers to progress further up the educational ladder before they teach those subjects to kids.
Many U.S. school systems defer to teachers with higher degrees when they hire faculty, and teachers are required to have some kind of state certification along with a bachelor's degree. However, the precise certification requirements vary, depending on how a teacher enters the profession and what state they teach in. The traditional route to becoming a teacher in the United States usually involves a bachelor's or master's degree in education along with a standardized test and other state-specific requirements. But most states have some form of an alternative route, usually involving a bachelor's degree and completion of an alternate certification program while a person simultaneously teaches full-time. There is no federal mandate for teacher education requirements, according to the World Policy Analysis Center. The federal Improving Teacher Quality State Grants program rewards states with funds when they meet the "highly qualified teacher" requirement set forth in the No Child Left Behind Act.
The notion that teachers' own educational levels affect their students' performance is so prevalent that teachers' wages are often based on their training. Though a study from the RAND Corporation found that higher teacher qualifications had no effect on student achievement at the elementary level, a study from the National Center for Education Statistics found that high school math and science students of teachers with subject-specific training have greater achievement. Similarly, a 2008 Utah State University study found that science teachers with advanced degrees in science or education improve their students' scientific achievements.
David E. Drew, writing for a Slate series on science education, wrote that one way to keep good teachers in the classroom is by offering opportunities to receive additional training. "Most important is professional development, the process of renewing and upgrading teacher knowledge and competencies," he wrote. Teachers from countries at the top of worldwide education rankings share this idea.
The federal government's best attempt at rewarding and helping science, technology, engineering, and mathematics teachers—a bill called the STEM Master Teacher Corps Act of 2013—is lost in committee, according to govtrack.us, with a "zero" chance of enactment.