Hot Collars
I got three custom shirts online. I'll never buy off the rack again.
I feel bad about my chest. It's too small, and it has all the definition of a bag of chips. My arms, too, aren't so great. They'd probably be pretty good arms on someone else's body, but on me, they're too long, out of proportion to my small torso. For much of my life, my stomach was OK, but it started to give way after I entered my 30s. Now when I relax it sticks out a bit; if I were a woman, the paparazzi would mistake it for a baby bump.
All of which is to say, I have trouble finding shirts that fit me well. Most men's shirts seem to have been designed for people with more pleasing arm-torso-chest proportionality. Most shirts' necks are too big for me, and when I do find one with a small enough neck, the arms are usually a bit short. This is true no matter where I shop—at discount places, at mall retailers, or even at expensive shirt-makers like Thomas Pink.
Naturally, then, I was intrigued by the new crop of Web companies that claim to make custom-fit men's shirts for not that much money. These companies are powered by the same world-is-flat economics that govern the electronics business—like your phone, the clothes are designed in America and made overseas (usually in China, but one pair of custom pants I purchased was constructed in Portugal). There are more than a half-dozen such companies online; over the last few months, I tried out three of them. And they were all amazing.
Choosing the best custom-fit shirt company is like choosing your favorite kitten. Each of these shirts was better than any shirt I've ever purchased off the rack. Any quibbles I had with any single company were trumped by the fact that they were making shirts exactly to my size, in luxurious fabrics, for about the same as I'd pay in a store. After experiencing this service, I don't see any point in buying off the rack again.
Here's what I thought of each site: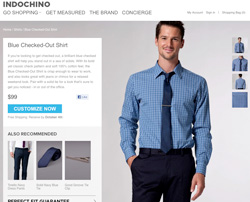 Indochino was founded in 2007 by Kyle Vucko and Heikal Gani, two college students who were having a hard time finding suits that fit. During their search, the pair stumbled onto one of the great secrets of the apparel world: Expert tailors in Shanghai will custom-make men's clothes for a fraction of what you'll pay in the West. (If you happen to be visiting China, don't forget to pack your best suit; you can get replicas made for about $100 each.) The firm has since expanded into shirts and pants, and it's raised a bundle of venture-capital money in the process.
Vucko and Gani have spent the money well. I found Indochino to be the best-designed of the sites I tried. It features better photos of the clothes and a more intuitive process to customize your selections. I was particularly fond of the site's measurement wizard. There are many measurements that go into making a shirt—not just neck and chest size, the main factors in off-the-rack shirts, but also your stomach, bicep, and wrist circumference, and the length of your shoulders, sleeves, and torso. For each of these steps, Indochino has a very helpful video showing you exactly how to take your size. (You should have someone else measure you.)
On the other hand, Indochino has a smaller selection of shirts than the other retailers I tried. There are about three dozen fabrics, and too many of them are in muted, middle-manager shades of blue and white. The site allows you to customize your shirt in a number of ways—there are eight different collar and cuff styles, and you can have the shirt monogrammed. The other sites, though, allow for even more customization, like different pocket styles and the option to add contrasting fabrics on the inside of your collar and cuff. (Indochino will only let you get a contrasting outer collar and cuff, and only in white fabric.) Indochino's return policy is also slightly less generous than other firms'. I did like its Perfect Fit Guarantee—the company will give you up to $75 to have your shirt, pants, or suit altered by any local tailor—but if you want a refund (say you hate the fabric you chose), you've got to send back your order unaltered within seven days of receipt, and you've got to pay for shipping.
All that said, the shirt I got from Indochino was beautiful. The fabric was soft, the tailoring expert, and the fit just perfect. It was fast, too: From start to finish, my shirt took two weeks to get to my door.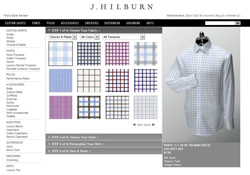 J. Hilburn
Shirts range from $79 to $159; some customization options cost extra. My final shirt price was $154. Made-to-fit trousers start at $125.
Like Indochino, J. Hilburn was founded in 2007 and has also attracted a ton of venture capital money. But J. Hilburn's founders were cut from a different cloth; they describe themselves as "a couple of Wall Street guys with a passion for custom-made dress shirts and for the way we felt wearing great-fitting clothes." As a result, their shop is a much more luxurious affair than the others.
For one thing, everything here is more expensive than at the other stores. For another, J. Hilburn features an unusual—but really kind of wonderful—hybrid online-offline buying process. Before you can get anything from the site, you must sign up for an in-person consultation with a "style adviser." The consultant comes over to your home or office, takes your measurements, and shows you a sheaf of fabric swatches and samples of J. Hilburn shirts and pants. You order your first item through your consultant, and you can order subsequent items through the website or by calling her up. (J. Hilburn has 600 advisers in 40 states and D.C. The advisers—most of whom are women—are independent affiliates of the company and take a cut of your purchases. If you're interested in selling luxury clothes to wealthy men, sign up here.)
This process initially sounded a bit too involved for me—I'm used to one-click online buying—but I can see why some men might like it. As a practical matter, the consultants are expert measurers. Jennifer Cushard, the adviser who came over to my house one weekday morning, asked me a battery of questions about how I wear my shirts (did I like them slim or roomy?), and she knew several insider tricks to get the best fit. She explained, for instance, that most people's left and right arms are slightly different in length, so she measured each of my arms. (One was a half-inch longer, and my shirt reflects that difference.)

Cushard also helped me design my shirt. She explained which fabrics were good for certain functions or weather and which were most popular, and she knew what kind of collar would look best on me. Finally, she was a great saleswoman. She regaled me with descriptions of J. Hilburn's hyper-involved, exclusive pants-making process—and I was so bowled over that I decided to order a pair.

I can see why J. Hilburn has been so attractive with VCs. The shirt and trousers I ordered were wonderful, of a fit and quality that surpassed any clothes I've ever purchased. If I could afford it, I'd buy much more of my wardrobe through the company.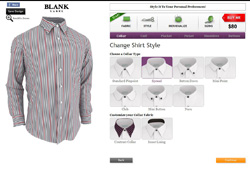 Blank Label Shirts range from $60 to $98, depending on your choice of fabric. Mine cost $65. Given its lower prices, I expected Blank Label to have a discount feel, and in some respects it does. There are no pictures of handsome models wearing custom shirts, the photos of the fabric swatches don't offer much visual detail, and the guidelines for how to take your measurements aren't as thorough or polished as Indochino's. But as I went through the buying process, I was won over by the site's virtues: the wide variety of fabric and customization options, and a few extra touches that make getting the right shirt easier. In addition to letting you take your own measurements, the site offers two other ways of getting the right fit. First, you can fill out a questionnaire with the dimensions you know—like your height, weight, off-the-rack shirt size, and the brand of shirts you like to buy—and Blank Label's tailors will estimate your perfect shirt size. The site calls this method "90 percent accurate." For more accuracy, Blank Label lets you mail in your best-fitting shirt to use as a template for their custom offerings. It pays for shipping both ways.
Blank Label also leads the field in customization. You can get contrasting fabrics for your collar and cuff, pick out your buttons and the style of the placket (the central panel where the buttons are stitched), and even add epaulets, if you like. Given all this free rein, you could easily order up a clown shirt. (Do yourself a favor and have a loved one look over your design before you confirm it.) Still, I was glad to have the options—and they're all free.
My favorite thing about Blank Label, though, was its exceptional customer service. There were two problems with my order that could easily have soured me on the site. First, a few days after I designed my shirt, I got an e-mail from a customer-service rep explaining that the fabric I'd selected was no longer available. I was about to get angry at the thought of having to redesign the shirt when I noticed this wonderful line: "Also, please feel free to choose a more expensive fabric at no additional cost." So that's what I did. I got an $85 shirt for $65.
The shirt arrived in a couple weeks, and—just like the others—it was stylish, well-constructed, and fit perfectly. But there was one tiny problem: When I opened the top button, it broke in half in my fingers. I don't think this was shoddy workmanship; it seemed like the button got bent or cracked during shipping. Anyway, I went to the site and discovered that it has a wonderful return policy: You can send back "any shirt, any time, [for] any reason," without any shipping charges. Blank Label will make you a new shirt even if you simply don't like the design you chose—if, say, you chose epaulets and then discovered you're not actually a general.
As I entered in my return details, a live-chat message popped up  to ask if I needed help. I typed in my problem and got a reply from Fan Bi, Blank Label's founder. He apologized and asked if I would be OK taking the shirt to a local tailor to be fixed. Blank Label would cover the cost of attaching the extra button and would give me a $20 credit for my trouble. That sounded fair to me. Again, I was won over.
Of the three sites I tried, Blank Label is probably the one I'll return to most often, mainly because I love its prices and customer service. When I'm looking for something fancier, I might check out J. Hilburn. What I won't do is spend much time shopping for shirts at the mall, unless I see something at a steep discount. After you get a custom-fit shirt, you'll never go back.