Testing, Testing … 1, 2, 3?
Which (cheap) digital audio recorder works best?
Since moving to Los Angeles from New York a few years ago, the majority of writing assignments I've landed are, not surprisingly, celebrity profiles. I'll meet up with an A-, B-, or C-list celeb at a loud cafe or raucous restaurant of her (or, more likely, her publicist's) choosing. Throughout the interview, I'll attempt to appear interested, while inwardly I'll obsess that my little digital recorder isn't managing to cut through the din to document her precious utterances—which later I'll laboriously transcribe.
Accidents do happen. Toward the end of documenting a daylong culinary odyssey with an Australian female twin pop-duo a few months ago, my recorder began flashing "Disk Error." I tried not to panic. It was the final stop on our restaurant tour, and I resorted to the "memo record" function on my BlackBerry. Luckily, I salvaged the day's recordings up till the glitch; and after countless rewinds, playbacks, and some painstaking tweaking of the bass, midrange, and treble, I was able to make out the bits from my phone.
That day, I vowed to find the perfect digital recorder—a reliable device that could cut background noise and play nice with my Mac for under $200. (Celeb journalism isn't as lucrative as one might think.)
Methodology
I selected recorders from Sony, Olympus, Phillips, and Tascam. Each brand has an almost overwhelming number of models, so I chose four of their best-selling recorders in the $125 to $200 price range and subjected them to five field tests:
Outdoors interview: a conversation during the day with relatively little background noise and a light breeze.
Lecture: I spoke from about 30 feet away and placed the recorders on top of my loudly humming vintage '70s refrigerator for background noise.
Live music: a rehearsal of the Silver Lake Chorus, a 24-person choir I joined recently.
Bar interview: an up-close chat in a very noisy, late-night Los Angeles bar.
Dictation: speaking directly into the recorders from about 6 inches away.
Sound … bites? (15 possible points): I rated for background-noise reduction and recording clarity in each of my various tests, averaging the points from all five to determine an overall score. 
Bells and whistles (10 possible points): There was a wide range of features available in this price range, from 24 bit/96 kHz recording capability to built-in FM tuners. More features didn't always mean a better product though, so I tried to find out: Did the "zoom microphone" and other fancy-sounding settings really do anything? Did the device offer any powerful playback features like looping, speed control, or audio frequency adjustments?
User-friendliness (5 possible points): The screens for these devices are smaller than those of most cell phones, so you might feel as if you need an engineering degree to navigate them. Which interfaces were the most intuitive?
The results from Low- to Hi-Fi, along with short sound clips from the live-music field tests: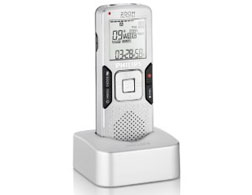 Philips LFH0882 ($136) The Philips Voice Tracer is the only model I tested that had a built-in FM tuner to allow simultaneous recording of a radio station. Naturally it also had most of the basic features: voice-activated recording and adjustable recording levels (high/low). But it lacked a low-cut filter—which turns out to be pretty useful in knocking out background noise. I blame this bizarre oversight for the poor sound quality, which was muffled and muddy. To make matters worse, the interface looked as if it was designed circa 1993. Overall this device had the worst sound and was the most difficult to navigate.
One saving grace: The Philips fared best of all the devices outside with a light breeze blowing. While the ultra-sensitive microphones of the other recorders would pick up tons of wind noise, I could hardly notice any distortion on the Philips—making it handy for those who tend to conduct interviews in wind tunnels or, perhaps, in Hurricane Alley.
Sound … bites?: 11
Bells and whistles: 5
User-friendliness: 3
Total:  19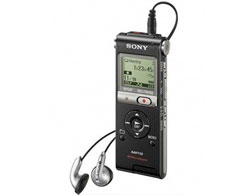 Sony ICD-UX300 ($125) Two things I loved about the Sony UX300: It came with rechargeable batteries and had a built-in USB that cleverly slid in and out of the unit—eliminating yet one more annoying USB cable from my life. The UX300 was easy to use, easy to navigate, and worked well under a variety of conditions.
The other unique feature of this recorder was the "divide" button on the side of the unit, which let me split an audio file during recording. (Other recorders had a divide feature, but these were buried in the menus and designed to break up existing recordings after the fact.) It also had a handy digital pitch-control switch, allowing easy access to variable-speed playback, and an A-B looping button.
The only downside was that UX300 had the most trebly sound of the group—the audio was thin (if clear under most circumstances) and had less mid-range and almost no bottom end, even with the low-cut filter set to off.
Sound … bites?: 12
Bells and whistles: 8
User-friendliness: 4
Total:  24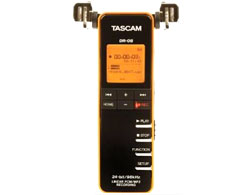 Tascam DR-08 ($167) One shouldn't judge a book by its cover and all that, but the Tascam DR-08 just looks cool. It's got orange trim! Its microphones fold out like the arms of a Transformer! Oh, and it sounds really good, too.
Though Tascam is a brand more widely known to musicians (I loved my Tascam four-track recorder as a teenager) than to reporters, the DR-08 is perfectly suitable for interviews. It also sounded the best overall in almost all conditions—except outside with a calm breeze. The low-cut filter has not one, but three settings (from 40 to 120 Hz) to reduce noise. The device also has an adjustable threshold setting for the voice-activated recording, and an incredibly intuitive (and cool looking) interface. It recorded up to 24 bit, 96 kHz stereo audio.
Sound … bites?: 13.2
Bells & Whistles: 7
User Friendliness: 5
Total: 25.2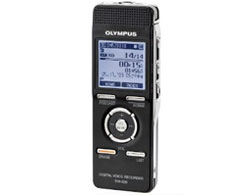 Olympus Digital Voice Recorder DM-520 ($148) The first digital recorder I ever purchased (about three years ago) was an Olympus. Frankly, I didn't like it at all—the sound quality was horrendous, the interface obtuse, and the accompanying software a joke; but I have to say that the Olympus DM-520 is quite impressive. The overall sound quality was excellent—though not quite as high as the Tascam's, particularly when it came to recording music. What makes it a slightly superior device is that it packs an abundance of great features—my favorite being the "scene" function that provides quick access to presets like "dictation," "conference," and "lecture," plus the ability to add up to three user presets. The 520 also comes with rechargeable batteries and a robust audio application called Sonority (a vast improvement over the previous version), which offers speed control, noise cancellation, and bass/treble adjustments.
For dictation, interviews or lectures, this thing was great. If you want a small digital recorder to capture live music, I'd go with the Tascam.