More Sour to You
Why tart foods like pickles, Greek yogurt, and kombucha are sweeping America.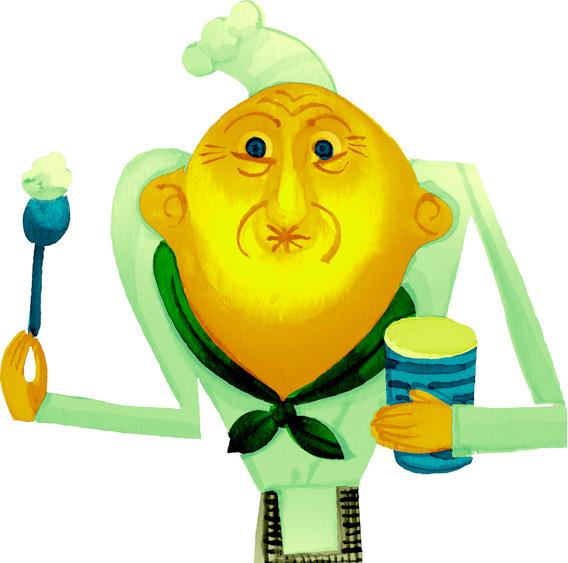 If Katherine Alford says sour flavors are having a national moment, pay attention. A vice president at the Food Network, Alford runs its expansive test kitchen in Manhattan's Chelsea neighborhood. Recipes and ideas that make the cut here will find their way into kitchens across America through the network's TV, Web, and magazine content. Alford's job is to stay in front of America's ever-changing palate without alienating a mainstream audience. Right now, Alford is finding that audience increasingly hungry for sour foods.
Alford spears a few pickled carrot slices and cauliflower florets out of Ball Mason jars for me; their tartness is bright and crisp. Years ago, Food Network's pickle recipes used more sugar to mitigate sourness, but the vinegar flavor in these vegetables is unbridled. She then whisks up a lemon vinaigrette for a kale salad, explaining that the current recipe uses more lemon juice than past versions. These days, her audience isn't afraid to pucker. "They're looking for a much more intense sour flavor, whether it's from lemon or vinegar," Alford says.
Alford isn't the only culinary professional perceiving a growing taste for sourness—others in the food world are picking up on the same signals, and companies are swooping in to capitalize on America's growing taste for tartness. Think of thick, sour Greek yogurt, which has expanded from a meager 1 percent market share in 2007 to take over more than one-third of the entire yogurt market this year. And salt and vinegar chips, which used to seem like the kind of thing your weird uncle ate, have also gained a foothold in the American market. Now there's enough demand for sour snacks to inspire a whole array of competing mass market pickle-flavored chips from giants like Lay's and Pringles, which markets its tubes of XTRA Screamin' Dill Pickle chips with a dare: "Brave one bite and you'll be hooked on the aggressive taste that won't quit."
Touting sourness may be new, but that kind of boastful goading isn't. It's the same sort of language marketers have used for years to promote their hot and spicy items. Take Tabasco sauce: In the 1990s, its ad campaigns switched from encouraging people to sprinkle dainty dashes of pepper flavor to urging them to douse their food with heat; 10 years ago, Tabasco's tagline repertoire included, "You always want more no matter how badly you got burned last time." Mary Chapman, the director of product innovation for the food consultancy Technomic, sees the growth of sour as a natural extension of America's desire for big and bold flavors of all kinds. Now that hot and spicy foods are well established, people want to taste what happens when sour flavor is cranked up.
Both sour and spicy flavors have ridden to popularity on a wave of new international cuisines that reflect the nation's growing diversity. Sour flavors have gained acclaim as more Asian cuisines—particularly Thai food—have expanded their reach. Thai food purists may grouse, correctly, that the cuisine has been debased as it has spread. But even an inauthentic Thai menu is bound to offer sour dipping sauces and spicy soups punched up with lime juice.
Sour foods are also growing because of what they aren't: Sweet. With public health officials and influential food polemicists in open warfare with soda and corn syrup, the opposite of their flavor profile sounds an awful lot safer to many consumers. "Sugar in so many ways has become demonized," explains Kazia Jankowski, associate culinary director at Sterling-Rice Group, which advises various global food companies. "Taking that tart flavor and bringing it forward connotes that sense of 'OK, this isn't a sugar-laden product.' " Her firm put sour food at the top of a recent list of culinary trend predictions. A key reason Jankowski's clients are doing more with sour foods is that consumers perceive them as healthier, not just because of sugar fears, but also the potential health benefits of the helpful bacteria involved in the fermentation that creates those tart flavors.
Fermentation has become a popular DIY pastime, too, and this Portlandia-mocked obsession is also growing the market for sour flavors. From Pinterest-loving Mormon mommy bloggers to Grizzly Adams beard-rocking hipsters, pickling has a legion of fans with missionary zeal. Kombucha, the mildly fizzy fermented tea, has grown so far beyond its crunchy origins that I saw bottles of it in rural Virginia gas stations on a recent road trip. And kimchi, fermented cabbage, has spread from Korean kitchens to Los Angeles taco trucks to Michelle Obama's recipe repertoire for White House garden produce.
The boom in artisanal sour products was on display at Savor, a recent craft beer and food festival thrown in New York by the Brewers Association, the trade group for small beer makers. An enthusiastic crowd of 3,400 filled a sprawling downtown Manhattan ballroom over two days to swirl snifters filled with the labors of dozens of breweries from around the country. Unsurprisingly, the most common style on offer was India pale ale, consistent with the craft beer world's obsession with maximizing hoppy bitterness. But many breweries brought tart beers that weekend as well, and sour beer panel discussions happening alongside the main event drew sold-out crowds. These funky beers, which can be enlivened by wild yeasts and given further complexity through barrel aging, are seeing steady growth. Belgian sour is the second-fastest growing style of beer (after IPA), with sales up 31 percent in a year, according to GuestMetrics, a company that tracks restaurant and bar sales.
Upland Brewing Co. was among those popping corks on sours at Savor. Its experimentation started with what brewery president Doug Dayhoff called a "science fair project" in four used wine barrels in 2006. Now that project fills about 200 barrels, and they're working to expand.
Chefs are helping drive that kind of growth. With high-end restaurants now expected to put as much thought into their beer selections as their wine list, stocking sour beers is a way to stand out and open doors to new and interesting pairings. "I make sour beers for a living, but I don't go home and slam four pints," says Andy Parker, whose Avery Brewing Company business card bears the title "barrel herder." "I break open a really good sour beer when I have friends over for dinner. They're very good for food pairings."
Avery's team proudly poured a cabernet barrel-aged sour called Odio Equum at Savor, matched with goat cheese, itself a product riding high on the sour flavor wave. Fans crowded around the Boulder, Colo. brewer's table, comparing tasting notes and peppering the staff with questions about yeast strains. Even some diehard hopheads who had come for Avery's imperial IPA seemed impressed. The last bottle of sour was drained well before the party ended, leaving many in the crowd thirsty for more.