Published by

Green Pastures…and Green Farming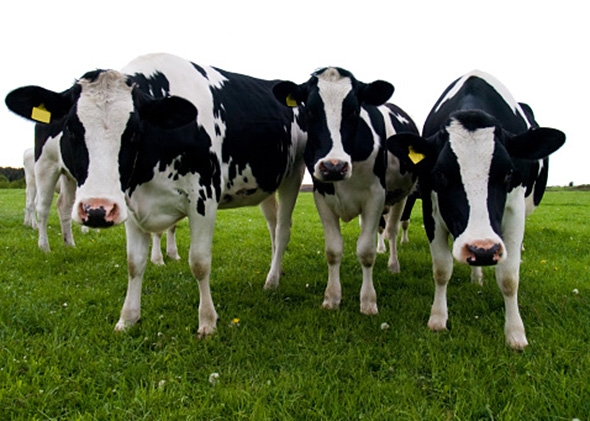 Across industries and around the world, the search for sustainability is a never-ending process. But one of the most sustainable systems is right in front of us: the dairy farm.
Dairy farming is inherently one of the most sustainable forms of agriculture because of its ability to naturally recycle nutrients between people, animals and plants. Having four stomachs means a cow can recycle food that people can't eat, such as grass, cotton seed, or citrus pulp. She converts that into an average of 144 servings of nutrient-rich milk per day, and manure that can be used to grow more crops for people and animals. Across the United States, dairy farms large and small are intent on optimizing this natural nutrient cycle.
Dairy farms are ideal for adopting a "closed-loop" approach to farming: a process where the nutrients needed to grow crops and feed animals are recycled within the system, and minimal external inputs – such as fossil fuel-based fertilizers -- are required.
Dairy farmers routinely recycle cow manure as fertilizer to grow the feed for cows. Taking the closed loop system a step further, extra cow manure and commercial food waste, both of which release methane gas when they decompose, are used as feedstock for a methane digester to produce clean renewable energy, nutrient-rich liquid fertilizer and fiber for use as bedding for the cows or as a garden soil amendment. This eases the footprint from manure, one of the largest potential sources of environmental impact in modern industrial farming.
Running a dairy farm entirely within a closed-loop system is the ideal, if not always 100 percent achievable. Most dairy farms need to import at least some portion of their animal feed. It is not uncommon for the majority of that feed, in the form of forage, to come from within ten miles of the dairy. In this way, closed-loop farming can extend beyond a single operation to neighboring farms. Manure can be "shared among neighbors" for fertilizer, lessening the need for additional nitrogen inputs within a local agricultural community.
While many sustainability efforts and agreements get bogged down in politics, the USDA and the Innovation Center for U.S. Dairy have been a model of cooperation, signing a Memorandum of Understanding expressing USDA's support for the dairy industry's voluntary goal of reducing greenhouse gas (GHG) emissions across the dairy industry by 25 percent by 2020.
Researchers Dale E. Bauman of Cornell and Judith L. Capper of Washington State University have collaborated to study the challenges and opportunities of dairy sustainability. To get a sense of the progress made in carbon impact, Bauman and Capper employed a "whole system model" to quantify the environmental impact of milk production on dairy farms in the United States. In 1944, the average cow had a carbon "hoofprint," if you will, half that of the higher producing cow found on today's dairy farm.
This single statistic taken out of context may, as Bauman and Capper note in their report, obscure the efficiencies gained in milk production in the last century. As Bauman and Capper also note, those efficiencies have dramatically reduced the carbon footprint per gallon of milk produced– a more informative measure.
In 2007, the carbon footprint per unit of milk produced was only 37 percent of that in 1944. And the total dairy industry carbon footprint (within the boundary of the farm gate) was reduced by 41percent-- along with the substantial increase in total milk production.
This is where the increased efficiency goals defined by the dairy industry come into play. Working from 'grass to glass' the industry has a roadmap and projects underway to build on this track record and reach its goals.
Farm operations face many obstacles today – from the rising cost of feed, to the availability and cost of land, to the increase in more extreme climate events. Technology and new business models will play an important role in enabling farmers to manage and adapt. Methane digesters, for example, could be an important tool in a more sustainable dairy farm system, but are currently not a viable option for most farmers.
But by banding together, some ingenious solutions become accessible. Fortunately for communities and small-to-medium sized dairy farmers in the Pacific Northwest, entrepreneurs like Kevin and Daryl Maas are stepping in to help meet these challenges.
Six years ago the Maas brothers started Farm Power, building methane digesters to share among groups of local dairy farms. Manure from the farms provides feedstock for the digesters and the power generated is sold to the utility, providing power to the local community. The processed manure is sent back to the participating farms, free of odor and pathogens. That means it can be used as fertilizer on their fields, enabling a "shared" closed-loop process at no additional cost to the farmers.
"Farm Power's community digesters allow us to aggregate manure and share the manure among smaller farms based on who needs it," says Kevin Maas. "That's what we do."
To date, Farm Power has built five digesters for a dozen farms. "It hasn't been easy," says Maas, but his passion for helping local communities and dairy farmers is just one example of the kind of innovative thinking underpinning the dairy industry's progress in sustainability as defined by the International Food Policy Research Institute.
Many farms across the country are just as passionate as the Maas brothers and their partners, cultivating a "triple bottom line" approach to their dairy farms. The list of success stories — of commitment in action — is long and growing.
Dairy's commitment to sustainability — a story of continuous improvement
Dairy farming can be at the heart of a most sustainable food system. Energy produced from manure has no impact on food supply. Healthy and comfortable cows produce an affordable source of protein and other nutrients for a growing population, while helping to maintain and restore the soil. The true potential for modern sustainable dairy farming is "a 'good news story' for the dairy industry – one that is often not recognized by the public, and sometimes not even by those associated with the dairy industry," concludes Bauman in his research.
To help communicate this "good news story" and support best practices within the industry, the Innovation Center for U.S. Dairy recently held its annual U.S. Dairy Sustainability Awards in Washington, D.C. Winners were selected based on their triple bottom line results (people, planet, profit), and were also evaluated for how easily their sustainable management practices could be adopted by others.
"This year's winners include dairy farms and businesses from across the country who took steps to reduce their environmental impact, improve their profitability and increase their contribution to a sustainable 21st century food system, said Molly Jahn, a member of the awards' judges panel and a professor of genetics and agronomy at University of Wisconsin-Madison.
For consumers interested in sustainability, dairy provides a breath of fresh air. A sustainable food system for the 21st century is underway at a dairy farm near you.