Published by

Dairy for Life: The "White Gold" Rush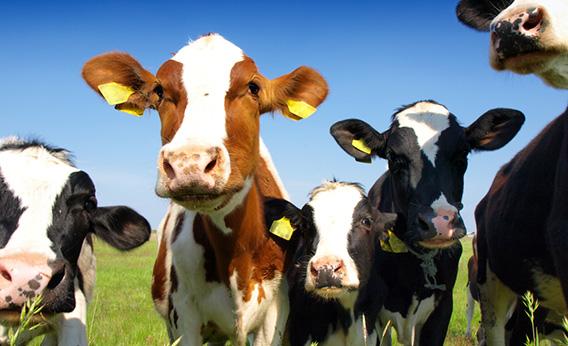 As Bill Wavrin sees it, while there are always those who fall on hard times, there are also those who can lend a helping hand. A family dairy farmer in Mabton, Wash. since 1990,Wavrin felt compelled to do what he could for people in need in his community. And, when he spoke with fellow farmers, he found they shared his sentiment.
By December 2012, 31 Yakima Valley and Tri-Cities food banks discovered that they had hit "white gold," Wavrin and five other dairy farmers decided to donate $60,000 to provide for 25,000 gallons of milk throughout 2013 to communities plagued by food insecurity. Known as "Dairy for Life," the initiative is Wavrin's passion, and he is working hard to bring more farmers on board and extend the program for several years.
Aside from Wavrin and his brother Sid, who co-own Sunny Dene Ranch, the initiative's members currently include: Jake and Genny DeRuyter of DeRuyter Brothers Dairy, Dan and Carolyn DeGroot of Skyridge Farms, Tom and Heather deVries of deVries Family Dairy, the Dolsen Families of Cow Palace, the LLC Aquilini Family, Henry and Lori Oord, and Jon and Lori Wheeler of Sunnyside Dairy. All reside in the Mid-Colombia Basin region.
Rod Wieber, Chief Resource Officer at Second Harvest (the milk distributor for the program), describes the milk donation as "white gold, because it's something the food banks rarely see. And to have it on a recurring basis is a huge boon."
A nonprofit with a network of 250 food banks and meal centers in eastern Washington and northern Idaho, Second Harvest is using the funds from the farmers to purchase 400 gallons a week of reduced-fat (2 percent) milk from Darigold, a farmer-owned co-op that processes fluid milk, in which all six farmers are members.
Although the current donation of 25,000 gallons over 12 months is significant, Wavrin thinks local farmers can do more. Donations from each farmer in the program reflect the size of the dairy farm, and the participating farms each boast an above average herd size for the state of Washington. Wavrin's farms (Wavrin and his brother own three farms together) have between 3,000 to 4,000 cows, depending on the time of year.
Wavrin believes that larger farms have more latitude to make sizable donations while still feeding their own families. When Wavrin recently attempted to formalize the program within the co-op, he felt resistance from some smaller farms.
"The idea is, 'If I can't feed myself, how can I feed others?' Maybe it will always be biased toward larger farms, because you still have something left over to be socially responsible with," Wavrin says. "Rural America is generous, but quietly so. I want it to be a group effort, because if we could pull together and get this program established, we could get a lot of milk to a broader geographical base of young families in need."
Bringing in more farmers to increase donations also would allow food banks like the one run by Helaina Meyers in Sunnyside to distribute milk more equally to their 625 families who are food insecure—a number that is growing by two-to-12 families a week.
Through Dairy for Life, the Seventh Day Adventist food bank receives 90 gallons of milk a month, and the director admits she is hard pressed to divide up the highly-prized commodity. "I have to prioritize large families with kids," she says. "I need to take care of the children first."
Meyers says she and her client families were more than thrilled to hear about the donation, since the food bank has rarely been able to offer fresh milk. The towns served by Meyers' food bank, Sunnyside and Outlook, sit in what is considered to be one of the state's poorest areas, Yakima Valley, which garners few donations from local stores.
So far, storage of the donated milk hasn't been an issue for the Seventh Day Adventist food bank, which utilizes a 9 x 12 walk-in cooler provided by the church. When Second Harvest informed food banks about the forthcoming donation, everyone jumped at the opportunity to provide their constituents with the prized product—every food bank except one.
The reason? Lack of storage space for such a large volume of a perishable item. To prevent this kind of situation, Wieber believes that food banks need to create the capacity to store highly-perishable items like fresh produce and dairy, which provide especially important nutrients for food-insecure families.
When Wieber joined Second Harvest in November 2006, just 35 percent of the organization's inventory was perishable. Today, that number has risen to 65 percent, thanks to an increase in donations by farmers who help provide fresh produce. Items like boxed macaroni and cheese and canned soup now come mainly from Second Harvest's food drives. The State of Washington's agricultural yield is above average, which allows organizations like Second Harvest to successfully reach out to local farmers for donations.
"Clients take whatever is available, but more and more, our food inventory has turned to highly-perishable product. So in turn, food banks and smaller pantries have had to change to accommodate perishable items. They had to change their mindset and start building that infrastructure and capacity and invest in larger fridges and coolers," says Wieber.
In fact, until October 2012, Second Harvest relied upon a 5,000 square-foot facility with an 80 square-foot cooler—an increasingly small space for a distribution center that now feeds 48,000 people a week. Finally, the organization realized that they needed to keep up with the change in volume of perishable products. They purchased land in Pasco, Wash., where volunteers helped build a 14,000 square foot facility containing 2,000 square feet of refrigeration and 2,000 square feet of freezer space.
For many food banks, it will take time and money to build up the proper infrastructure, and more refrigeration space means a bigger electricity bill.
"Larger food banks can lean on their community. But we will see more of this type of perishable donation. This is the way of the future," Wieber says.
"Dairy's nutrients such as calcium, protein, potassium and more are critical for a healthy diet, yet dairy foods only make up about 5% of the foods distributed nationwide by food banks. And for those who aren't able to access it, well, we think they should have access regardless," Wavrin declares.
And so it will be, if Wavrin and his fellow dairy farmers have anything to do about it.