Published by

Breaking the Cycle of Poverty: How Milk Can Help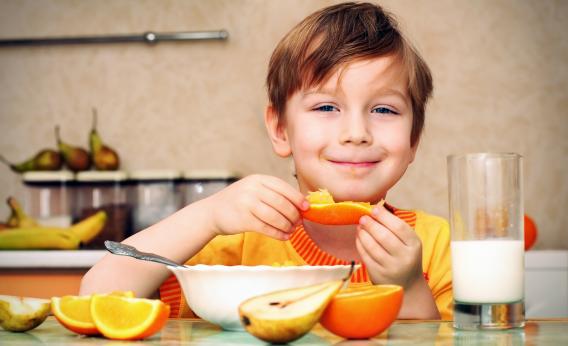 Millions of children in America endure a cycle of poverty and food insecurity, often with seemingly few resources to ever break free. But a number of outstanding educational and community efforts are leading the way to a better future for our kids.
In terms of solutions, making sure these children consume the recommended servings of low-fat or fat-free milk and milk products every day may not be the first thing that comes to mind. But the reality is that proper nutrition from all food groups is a foundation for success throughout life. Drinking nutrient-rich milk is an important part of the foundation for a child's health, offering nine essential nutrients and providing a framework for good eating habits over a lifetime.
Equally important, numerous studies summarized in the recent Wellness Impact report demonstrate the connection between improved nutrition and educational performance, and academic achievement is arguably one of the most reliable paths out of poverty. Consuming nutritious foods can help break down the course of poverty. Making good decisions like drinking a glass of low-fat milk - or eating an apple - can help shift the cycle. Or, it can at least give a kid a fighting chance.
Cultural influences and dietary choices
Even in the best of circumstances, kids often prefer the candy bar to the apple. Monica Reinagel, a.k.a the nutrition diva, speaks of a "double whammy" for disadvantaged kids in America. Not only are resources for nutrient-rich foods limited, but the cultural pressure to make the wrong choice is also stronger. Research by the Institute of Medicine and others demonstrate the disproportionate exposure of low-income, urban neighborhoods to marketing that encourages the consumption of unhealthy foods.
In 2009, the Academy of Nutrition and Dietetics (formerly the American Dietetic Association) published a study connecting socioeconomic status with nutrition. Calorie-dense fast food and candy with low nutritional value is readily available in lower-income neighborhoods, while fruit, vegetables, whole grains and low-fat dairy are generally found in the higher-priced grocery stores and farmers markets that populate higher-income neighborhoods.
The lack of access to nutritious food and cultural influence of unhealthy, nutrient poor food (topped off with inadequate physical activity), among many other factors, has played a role in the epidemic of childhood overweight and obesity. But it's an epidemic that many are fighting and slowly beating: from First Lady Michele Obama to teachers, parents, school administrators, community leaders and even local dairy farmers.
"Dairy farmers have been committed to the health and wellness of Americans, with an emphasis on child health since they founded National Dairy Council (NDC) nearly a century ago," stated Jean H. Ragalie, RD, president of NDC. "And this includes addressing hunger and helping ensure every child has access to nutrient-rich foods and opportunities to thrive."
Giving a kid a head start: Increasing choices, improving odds
The good news is there are tools already tested and in place helping kids from low-income backgrounds get a head start toward success. Several programs, both public and private, are already working in communities across the country to improve the nutrition of disadvantaged children:
* According to the USDA, 12.1 million children participated in the School Breakfast Program in fiscal year 2011. More than 10 million kids got their breakfast either free or at reduced cost.
* The venerable School Lunch Program served 31.8 million kids in 2011. More than 224 billion lunches have been served since the program started in 1946.
* In fiscal year 2011, more than 66 million half-pints of lowfat and fat-free milk were served through the Special Milk Program.
* Feeding America's School Pantry Program offers an on-site source of nutrition for 70,000 low-income students and their families.
* The Kid's Cafe Program, run by Feeding America, offers free after-school meals for low-income children. Pantries are located at schools and other community centers where kids gather. These pantries offer not only nutrition, but also a safe, supervised educational space that reinforces the idea of good eating habits.
* In Baltimore, the Great Kids Farms Program offers public school students opportunities to participate and learn about different aspects of food production "from seed to fork." Great Kids Farms is an innovative example of how to teach kids about food and nutrition, helping them make better choices as they enter adulthood.
*Fuel Up to Play 60 (FUTP 60) is a nationwide in-school wellness program that reaches nearly 73,000 schools. It was created by NDC and the National Football League (NFL), in cooperation with the U.S. Department of Agriculture, to help bring improved nutrition and increased physical activity to life for kids at school. FUTP 60 empowers students to be active for at least 60 minutes a day and "fuel up" with nutrient-rich foods (e.g., low-fat and fat-free milk and milk products, fruits, vegetables, whole grains and lean sources of protein).
Turning the tide: inspired for more
These programs do good work every day helping to alleviate food insecurity and educate about better nutrition, physical activity, health and wellness.
The successes already realized through these programs should inspire us to work a little harder supporting these programs within our communities, to the benefit of all.
More awareness of the foundation nutrition plays for the future of our kids.
More support for kids that are our future.
More resolve in making sure all kids, from the inner city, to the suburbs, to rural communities, have what they need to grow into a strong, healthy and educated adult.
It's perhaps our most effective, affordable solution for a sustainable future. That's how we make strong, resilient communities in the new century.
One kid, one nutritious meal, one nutrient-rich glass of milk at a time.