Bieber in a Bottle
The exploding market of celebrity perfumes.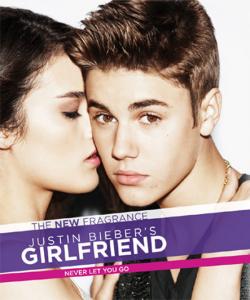 When Justin Bieber released Girlfriend, his second perfume, last month, his teenage fans weren't the only ones salivating. Bieber's first scent, Someday, had netted $3 million in its first three weeks at Macy's last summer, prompting the department store's president to announce it "the biggest celebrity fragrance launch on record." In a market glutted with celebrity fragrances, that's saying something. Never mind that Someday smelled "like crayons mixed with bubblegum" in the words of one snarkster; to 12-year-old girls, that particular mixture apparently smells like love.
The celebrity fragrance market has so exploded in the last 10 years that many in the industry worry the field is cannibalizing itself. Seventy-three celebrity fragrances were launched last year alone, up from nine a decade before, according to Michael Edwards, the industry expert who maintains a database called Fragrances of the World. Marketers and retailers like celebrity perfumes and colognes because they tend to introduce a younger clientele to the idea of buying fragrance and because their buzz draws more shoppers into stores.
So yeah, of course Snooki has a perfume (it smells of kiwi and "pink cupcake"), which she peddled on HSN, and Katy Perry has two, which she sells in excruciatingly cute cat-shaped bottles. And for some reason, Bjorn Borg has five. And P. Diddy favors Tarzan-ish names for his colognes, like I Am King and I Am King of the Night. Even Tilda Swinton came out in 2010 with her own scent, inspired by the Sufi poet Rumi and the scent of ginger, though she's one of the few truly distinguished celebrities who has. (Life is unfair: Swinton offers us just one perfume, while Antonio Banderas has more than 30.)
So how do you craft a celebrity fragrance? Increasingly, clever packaging is the key to breaking through a cluttered market. Bottles come studded with rhinestones or glow lights or, in the case of Bieber's Someday, with a huge pink flower and "a removable crystal heart charm from Justin." As for the smell, well, this isn't rocket science. While fashion houses may be more experimental with their scents, the expert noses behind celebrities tend to craft tame fragrances, broadly accessible to younger consumers and their untrained noses.
"They're soft and they're sweet and … they're easy to wear," says Karen Grant, the beauty industry analyst for market research firm NPD Group. "The consumer they're engaging with is new to fragrance in some way, so she's not going to understand something that's too difficult."
Still, within that world, there are categories. There are the youngest celebrities who tend to offer edible scents—fruit candy, cupcakes. There are the celebrities who churn out perfume after perfume, tweaking each formula just enough to merit a new bottle and new shelf space at Macy's. There are the bad girls, who offer a little spice. Herewith, a brief and selective taxonomy of some of the latest celebrity scents.
When he launched Girlfriend in June, Justin Bieber promised the scent would prove "more mature" than his first. This was a relative description. If Someday was meant for the tween fan, Girlfriend is for that tween's barely pubescent older sister. Lemony and bright with a hint of Juicy Fruit from its berry top notes, it smells like youthful optimism. It is Bieber's persona bottled, points out beauty marketer Karen Young—"perky," "bouncy," "all-American" (even though Bieber is Canadian).

A cursory smell session at Macy's suggests the younger the celebrity and the cuter her image, the more sugary the scent. Katy Perry has described her second scent, Meow!, as "very sweet" and "inspired by that magical place, Candyfornia!" Selena Gomez launched a scent this summer so cloying it could be called Eau de Grape Slushie.
And along with the sweet scents come bright, plastic, juvenile packaging. Even as Bieber has been debuting a more mature look and sound (as well as a growing fondness for theatrical crotch grabs), his perfumes look like they belong on the shelves of Toys R Us. One commenter on Fragrantica, a site for perfume addicts, described Girlfriend as looking like "a purple vibrator that was stuffed into the ribcage of a unicorn." Which is surprisingly apt.
Just-launched Dazzle is Paris Hilton's 16th fragrance since she first started churning them out in 2004, and according to Women's Wear Daily, they've thus far made $1.5 billion. Hilton's perfumes and colognes have names like Heir, Heiress, and Passport St. Moritz, and they attempt to evoke wealth and exotic locales. Depending on your perspective, Dazzle is either the smell of Paris Hilton, who happens to be rich, or the smell of Paris Hilton getting rich off you.
What do riches smell like? Marketing savvy. Hilton belongs to a special club of celebrities who just keep churning out the scents, many of them sequels, or "flankers," that milk the success of an original. Britney Spears, who's about to release her 11th scent, is quite fond of spinoffs—Fantasy spurned such fevered sequels as Midnight Fantasy, Hidden Fantasy, and Circus Fantasy. Jessica Simpson has 13 fragrances, seven of which have the word dessert in the title. Jennifer Lopez has 19 fragrances, according to Fragrantica, with her latest, Glowing, launched as a tribute to Glow, her first scent from 10 years ago.
Hilton's perfumes tend to be sweet floral fruities, with more or less vanilla, sweet like Bieber's scents if just a hint sexier. Dazzle smells like a cherry cupcake. Promotional materials for Dazzle suggest Hilton's newest scent represents Hilton's relaxed, down-home side—"inner beauty … without the need for bling." But the perfume is bottled in a glittery pink diamond, lest anyone forget precisely what Hilton is selling.
There are girls who wear Jessica Simpson, and there are girls who wear Lady Gaga, and they are not the same girls. Lady Gaga's first scent is due out later this year, and she's done her best to encourage self-selection among potential customers. She reportedly promised her fragrance would smell like an "expensive hooker" and said it was inspired by blood and semen. When photos of Lady Gaga's Fame were released, the perfume box indicated that it actually smells like "tears of belladonna, crushed heart of tiger orchidea with a black veil of incense, pulverized apricot, and the combinative essences of saffron and honey drops." If it's not semen-scented, exactly, it's a fair bet this will not smell like cupcake. A wonderful new black-and-white video shows Fame being made by gorgeous, half-naked men in a sort of mad scientist's lair, and in a new ad, Gaga is depicted as naked and holding her perfume with tiny men crawling all over her.
The Bad Girl category of fragrance is a small subset of celebrity scents that aims for something sexier and more provocative than mere pear and jasmine. Rihanna's second scent, Rebelle, out last winter, comes in a bottle that Kevin Marshall, a packaging design expert at Marc Rosen Associates, described to me as an "inverted stiletto." Its notes include ginger, coffee, and patchouli—sweet but spicy, with a hint of something burnt. Not candy, for sure, and not a delicate floral either. Nude outtakes from a recent photo shoot for Rihanna's next scent, appropriately titled Nude, suggest she's sticking with the scent of provocation.
And Madonna, without whom Rihanna and Lady Gaga would not exist, came out this spring with her very first scent, launched with a whiff of scandal when ABC had to ask for less breast from one of her ads. The press materials accompanying Truth or Dare rather loftily promised "darkness and light, innocence and deceit." Heavy on gardenia and tuberose and inspired by a perfume Madonna's mother used to wear as well as by the eponymous '91 documentary, Truth or Dare wants to be some sort of retro-sexy-virgin-slut amalgam, an homage to Madonna in her heyday.
Whether it succeeds is another matter. Reviews for Truth or Dare have been tepid. The best have described the scent as "sophisticated and elegant," while the worst have described it as "bingo night in a garden in a rest home." As one reviewer explained, "one person's modern tuberose is another person's old-lady-perfume nightmare." But it's worth wondering whether everything Madonna does reads as anticlimactic these days, no matter its merits. Might Truth or Dare read as coyly sophisticated if it were packaged in a pink diamond and sold by Paris Hilton? As Justin Bieber implied when he joked recently that a little bit of his sweat went into each bottle of Girlfriend, people buy celebrity scents in great part to get closer to their beloved's DNA.
In which case smell may be somewhat beside the point.