Does Oprah Get Thanked More Than God?
No, but Meryl does. Crunching the numbers on a decade-plus of Oscar acceptance speeches.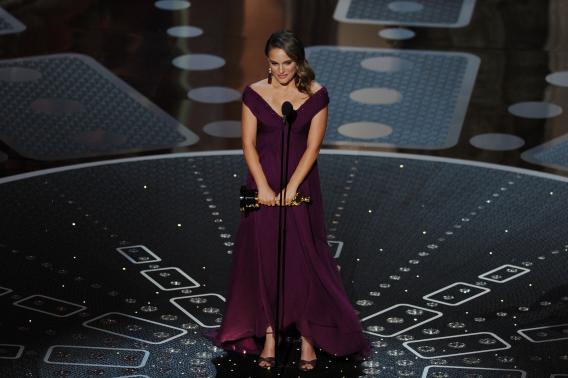 When Daniel Day-Lewis wins his third Oscar on Sunday night—an event as likely as last year's Best Actor Jean Dujardin struggling adorably with "Quvenzhané Wallis" while reading the Best Actress nominees—whom will he thank? After Day-Lewis's first win for My Left Foot, he thanked only Christy Brown, the man he'd played in the film. The second time he held an Oscar aloft, for There Will Be Blood, he was more effusive, mentioning family members by name and focusing his speech on his director Paul Thomas Anderson's "mad, beautiful head." Who will this new speech focus on? With the heightened emotion an Oscar win brings, how do the stars ever remember who to thank—especially with the academy requesting that winners speak "from your heart, not from a piece of paper"?
This Sunday, three more actors will win Oscars along with Day-Lewis, and one more historical performance will be required of each of them: the acceptance speech. During the past 11 years, 43 actors have given acceptance speeches during the Oscar ceremony. (We've updated our interactive from last year with the four winners from 2012.) Morgan Freeman delivered a 32-second moment of grace. Halle Berry's speech was a 4.5-minute aria of gratitude. (Heath Ledger, of course, could not deliver a speech at all.) I watched and catalogued each one to see what patterns emerged. It's my firm belief that what comes out in the moment—or doesn't—is a true reflection of feeling, whether the speech feels rehearsed and polished or immediate and spazzy. And in Hollywood—and what's more Hollywood than the Oscars?—billing matters.
First is best, of course. Agents may battle for top billing on their clients' behalf, but they rarely get it themselves on Oscar night—just one acting-Oscar winner recently, Tilda Swinton, thanked an agent before thanking anyone else. Last in the speech is also special; if you can't get top billing, make sure you get the "And … " spot that in a film's credits might be reserved for the biggest star of all. At last year's ceremony Christopher Plummer ended with a gorgeous, self-deprecating tribute to his wife, Elaine, "who deserves the Nobel Peace Prize for coming to my rescue every day of my life." Meryl Streep, on the other hand, thought this move too risky and placed Don Gummer first "because when you thank your husband at the end of the speech, they play him out with the music." Meryl's fears aside—really, who would ever dare play off Meryl Streep?—most winners end with a loved one, usually a spouse or child—even an unborn child. Catherine Zeta-Jones was very pregnant when she won for Chicago at the 75th Oscars ("My hormones are just too way out of control!") and ended by mentioning that she'd share the Oscar with her impending arrival.
The tool below allows you to see who was thanked in each actor's speech and when: first, second, third, in the rabble in the middle, or in that glorious final position.
| | |
| --- | --- |
| | won the Oscar for for a role in . |
Best Actor

Denzel Washington

Adrien Brody

Sean Penn

Jamie Foxx

Philip Seymour Hoffman

Forest Whitaker

Daniel Day-Lewis

Sean Penn

Jeff Bridges

Colin Firth

Jean Dujardin
Best Actress

Halle Berry

Nicole Kidman

Charlize Theron

Hilary Swank

Reese Witherspoon

Helen Mirren

Marion Cotillard

Kate Winslet

Sandra Bullock

Natalie Portman

Meryl Streep
Best Supporting Actor

Jim Broadbent

Chris Cooper

Tim Robbins

Morgan Freeman

George Clooney

Alan Arkin

Javier Bardem

Christoph Waltz

Christian Bale

Christopher Plummer
Best Supporting Actress

Jennifer Connelly

Catherine Zeta-Jones

Renee Zellweger

Cate Blanchett

Rachel Weisz

Jennifer Hudson

Tilda Swinton

Penelope Cruz

Mo'Nique

Melissa Leo

Octavia Spencer
Whom Is Thanked Most Often?
The graph below illustrates the number of times Oscar-winning actors have thanked each type of entity since 2002. Each block represents an entity thanked, and its color represents the order in which it was thanked.
First Billing
Second Billing
Third Billing
Supporting Players
And Featuring

Industry

Other

Producer

Co-star

Family

Director

Cast and crew

The Academy

Spouse

Child

Writer

Nominee

Role portrayed

God

Cast and Crew
Certainly it's better to come last than to be forgotten entirely. It's perhaps ungenerous to remind them, but here goes: Best Actress and Million Dollar Baby Hilary Swank attempted to apologize to her husband, Chad Lowe, at the 77th Oscars for forgetting to thank him the first time she won, but she couldn't help but congratulate herself in the process: "I'm going to start by thanking my husband, because I'd like to think I learn from past mistakes." They were divorced two years later. Sean Penn thanked Robin Wright the first time he won for Mystic River at the 2003 Oscars but forgot her when he took home his second for Milk. They divorced a year later.
Winners are most likely to become choked up when they mention their family members, which could be one reason they save them for the finale. Moms are referenced most often, though dads are hardly snubbed. Occasionally a winner will mix it up with an inspirational grandparent. When Jamie Foxx told a loving story about his grandmother repeatedly whipping him, the atmosphere in the room seemed to change from exhilarated to should we be clapping?
Though it seems a cliché to thank fellow nominees, it actually happens less often than you think. That's why Sandra Bullock's extremely generous speech for The Blind Side at the 2009 Oscars—wherein she addressed each and every one of her fellow nominees by name—was so unusual; no wonder she's beloved in the industry.
Hollywood (and by extension the academy) is notoriously hard on actresses, so is it any surprise that they receive fewer standing ovations than the men—yet work harder at ingratiating themselves to the powers that be? Actresses start by thanking "the academy" more often than their male counterparts, and once they get going, they aren't as quick to stop and generally cite a longer list of people. More interesting still is that they have long memories, often ceding credit to those who helped them rise to fame. The Reader's Kate Winslet thanked Peter Jackson at the 2009 Oscars presumably because he discovered her with Heavenly Creatures 15 years before. Penélope Cruz, who won the same night for a Woody Allen picture, thanked three earlier directors, including "my friend Pedro Almodóvar for having made me a part of so many of his adventures." Halle Berry and Natalie Portman had similarly deep appreciation for the directors who gave them their big breaks.
Male winners occasionally looked back to early influences, but only if they were family members. Jeff Bridges, for example, thanked his mom and dad for "turning me on to such a groovy profession" and told a story about his dad teaching him the basics of acting. Colin Firth thanked Harvey Weinstein for "discovering me when I was a mere child sensation," but it was a joke referring only to previous collaborations when he was a touch younger. He had to thank Harvey anyway for backing The King's Speech.
You'll hear Harvey's name again on Sunday night if Jennifer Lawrence wins Best Actress for Silver Linings Playbook. The Weinstein Company impresario helped shape the modern (relentless, shameless) style of awards campaigns, and his methods work. Perhaps you can even blame him for the amount of publicists who are thanked by name on the big night. It says something about the Oscars, or at least about celebrity actors, that their publicists are thanked by name so much more often than the people who help shape their award-winning performances. Costume designers, cinematographers, editors, and the like usually have to settle for the sad generic tent of "cast and crew"—though Natalie Portman's Black Swan speech made a heartfelt name-filled detour toward her costumers, makeup artists, camera operators, and even the first assistant director.
When a name crops up without a connection to the winning film, it's usually a legendary celebrity. The past 43 speeches held multiple mentions for Oprah Winfrey (two), Sidney Poitier (two), and Meryl Streep (four). Meryl, ever wittily self-deprecating, couldn't help herself when she won last year, confessing "when they called my name I had this feeling I could hear half of America going, 'Oh no! Oh, c'mon why? Her? Again?' "
Though it won't surprise anyone who thinks of Hollywood as a contemporary Babylon, God has only been thanked three times. Oscar is the world's shiniest and most coveted false idol, the golden calf in the Hollywood Hills. It's not that God is never mentioned: Denzel Washington started with "God is great," and Jennifer Hudson claimed, "Look what God can do!" (Make the other four nominees lose?) There's a reason for this notable lack of the divine, and it isn't the absence of religious faith. It's just that to actors, the director is God.
"You've truly rocked my life," Marion Cotillard shouted to her director with the fervor of someone born again. Halle Berry named hers "a genius" and cried for his gentle guidance. Tilda Swinton directly noted the divine when she won for Michael Clayton. "Tony Gilroy walks on water. It's entirely official as far as I'm concerned." Only four of the 43 actors skipped their director by name in their speech: Mo'Nique, Meryl Streep, Alan Arkin—and George Clooney, whose speech might have been the most curious of all.
When Clooney won for Syriana he began by quipping, "All right, so I'm not winning Director," referencing his other nomination that night for Good Night, and Good Luck. The speech that followed had a couple big laughs but was mostly a serious ode to the academy's progressiveness—and, by extension, George Clooney's own. He thanked no one directly. Who needs to worship a false idol when the man in the mirror is a golden god?