Unmastered, but Still Masterful
Kendrick Lamar's Untitled, Unmastered shows another side of hip-hop's most electrifying performer.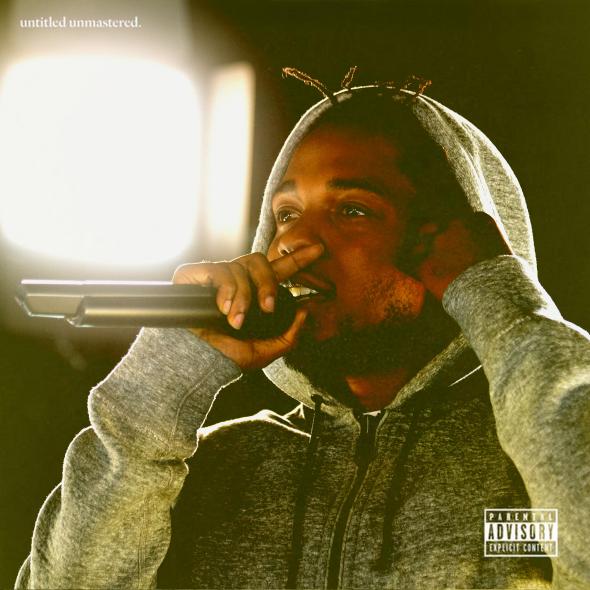 But it was Lamar's show-jacking 2016 Grammys performance, which along with its chain-ganged and literally-on-fire theatrics included a section of a third unreleased jam ("Untitled 05"), that impelled King James to fiat this project into sudden existence.
Even if this set of unused Butterfly demos and outtakes is partly a strategic move to prove Lamar can compete at surprise-release whack-a-mole, it has far more to offer than most gatherings of (as the Who put it) odds and sods. What it lacks in conceptual contour next to Butterfly's sprawl, it gains in concision and its stress on Lamar's verbal and vocal dexterity, which he downplayed a bit on that album for the sake of its bigger themes.
On "Untitled 01"—between the creepy, chimey, growly intro and outro that likely emanate from Butterfly's infernal antagonist (called "Lucy" there)—Lamar spits out a scenario of revelation and apocalypse: "Back-pedaling Christians settling for forgiveness/ Evidence all around us, the town is covered in fishes/ Ocean water dried out, fire burning more tires out/ Tabernacle and city capital turned inside out."
It sets a tone for much of the record, where Lamar, as on Butterfly, continues to contemplate the sins of his personal past and society's present, their consequences and the potential remedies. Given the drift of the current presidential primaries, end-times visions seem all too on-point.

However, as it goes with the best musical miscellanies, Untitled Unmastered is also a tour through the artist's sketchbook, sharing shifting moods and tangential thoughts amid the grander statements he's known for. The name of the project is at once a disavowal of polish and a political double-entendre. Untitled is a format he uses for all the tracks (which are only numbered and dated), and in record production, mastering is a process of smoothing out final sound balances and tones, which is a pricey part of an official album release. But Lamar is also saying that, like the tracks, and like everyone who's from where he's from, he may have no legal claim to status (no title), but he also has no owner, no boss, nobody calling his shots. Nobody trumps him. Fundamentally, this record is free.
The tracks familiar from the late-night performances are disappointing on first listens because they don't build to the same crushingly controlled frenzy as the televised ones did. In the studio, Lamar prefers texture (courtesy of his producers and his excellent cast of soul-jazz collaborators, including bassist Thundercat, vocalist Anna Wise, and saxophonists Terrace Martin and Kamasi Washington) to high drama. That might be wise: By not overworking the moments, he makes them more lasting. "Untitled 03" (which I've thought of since Colbert as "What Does the Black Man Say?") remains a compellingly complicated knot, tangled up in cultural stereotypes (Asian philosophy, Native American ties to the soil, Caucasian financial exploitation). But the live version's cathartic closing chant, "Tell 'em we don't die, we multiply," has been excised, as if it had been judged too easy a satisfaction. Given the way Butterfly's "Alright" has been adopted by the Black Lives Matter movement, Lamar might be wary of getting typed as an anthem machine—his agitated ambivalence is too central to his gift for that.
On the other hand, heard in full, the Grammys fragment "Untitled 05" is even more impressive, as Lamar (with guests Anna Wise, Punch, and Jay Rock) plays out his attraction to a murderous revenge fantasy driven by "genocism [sic] and capitalism" and the racist correctional system.
The new-to-us, three-part "Untitled 07" shifts from a new-agey meditation on the need to "levitate, levitate, levitate" above all the earthly distractions that "won't get you high as this" to—in a midsection co-produced by Swizz Beatz's 5-year-old son Egypt—some finest-vintage rap braggadocio. Let's hope the must-quote couplet "the flattery of watchin' my stock rise/ the salary, the compensation tripled my cock size" went over little Egypt's head, and the boast about building youth centers didn't. This song culminates with a loose coda in which we hear Lamar workshopping ideas with his studio crew for what we've already heard would become "Untitled 04."
That's the kind of gesture that offers another kind of intimacy to the listener, apart from Lamar's usual mixture of confession, aggression, and perfectionism. There's no danger of him doing too much of it, but it's a difference that makes this project feel particularly persona-expanding. In another surprise, "Untitled 06" is an outright love song featuring Cee-Lo Green, presumably to Lamar's fiancée Whitney Alford, celebrating their mutual "lunatic ways" and outsider integrity.
And the collection closes with what seems at first like yet another song ("Untitled 08") about coming up hard in Compton, about money and depression ("blue faces," as the memorable, funky chorus puts it) and the friends left behind—but then turns to consider the even harsher conditions Lamar witnessed on a visit to Cape Town, and a caution against self-pity, which is an exotic note for a hip-hop number to hit.
A few days after the album's Thursday-night appearance, it's too soon to lay bets on which of these tracks will stick most, but not too soon to say there are no true duds among them. Lamar seems to be in one of those rarefied pop zones—the Dylan-in-'65 zone, the late-2000s-Lil-Wayne zone, fill in your idol of choice—that means he probably could generate a couple of albums a year without much letdown. But it's better for him to save his energy for the truly field-vaulting leaps he has in him. He is one of the few voices capable of sounding all the contradictions of being awake to our messed-up but mess-aware times, without getting snared in the social-media snapchat where Kanye West excels. With luck, Untitled Unmastered will tide LeBron James over for a while.