Magic Mike
The male stripper movie you've been waiting for.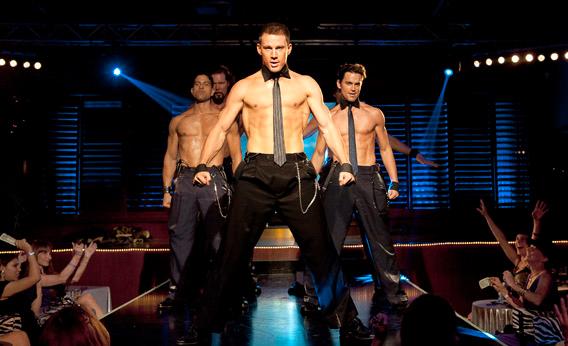 After you've watched Magic Mike, come back and listen to our Spoiler Special discussion with Dana Stevens and Dan Kois. You can also download the podcast here:

Steven Soderbergh, Channing Tatum, and male strippers: The convergence of these three elements alone is reason enough to see Magic Mike, Soderbergh's larky summer comedy—or is it a drama?—about a charismatic professional hunk and the naïve hanger-on he takes under his wing. Soderbergh's often cool, dispassionate directorial eye seemed difficult to imagine in the act of ogling a leather codpiece. Happily, though, the particular Soderbergh avatar who stepped up to helm this project wasn't the chilly formalist who made Contagion or The Girlfriend Experience but the laid-back, stylin' dude who brought us Out of Sight and Ocean's 11.
So sunny is the filmmaker's mood here that it's nearly an hour and a half into the movie that the first real untoward event occurs. Magic Mike spends the majority of its running time virtually conflict-free: The point of its existence is to watch attractive young people flaunting their bodies to one another and to us, to vicariously enjoy the lazy pleasure of flirtation and the heat of the Tampa sun.
Less than a minute into the movie, your ticket has already paid for itself, naked Channing Tatum-wise. As the Mike of the title, he gets up one morning and heads to the bathroom, leaving not one but two women behind in his bed. The one who's awake, Joanna (Olivia Munn), teases him for not being able to remember the sleeping girl's name, but as it turns out, neither can she. It soon becomes clear that Joanna and Mike have a tacit agreement to serve as each other's commitment-phobic booty calls while they pursue separate lives.
By day, Mike works on-and-off in construction, runs a car-detailing service, and dreams of starting his own line of custom furniture. But he pays the bills at night by—a-boom-chicka-wocka-chicka—taking it all off at a club called Xquisite. As imagined by Soderbergh, this unique venue, owned and run by the flamboyant impresario Dallas (Matthew McConaughey), is somewhere between a soft-core peep show and an off-Broadway cabaret revue. The audience, mainly sorority girls and young women at bachelorette parties, squeals with delight as the crew of buff Xquisite dancers busts out their highly conceptual strip routines. A fully choreographed "It's Raining Men," with the men twirling umbrellas and wearing raincoats over micro-briefs, was a big crowd-pleaser early on, as was Mike's virtuosic solo breakdance (either Soderbergh was employing some really subtle special effects or Channing Tatum can backflip off a stage, yo). And I'd kill to see more of an absurd medical-themed number that seemed to involve two near-naked medics spinning an audience volunteer around on a gurney while a third administered erotic CPR.
Eventually Magic Mike seems to remember that, as a narrative feature film, it should have a story of some kind, which is how we come to focus on the struggles of Adam (Alex Pettyfer), a 19-year-old college dropout who's landed on the couch of his more responsible sister Brooke (the enigmatically poker-faced beauty Cody Horn). Adam is without any particular direction or talent (or, as played by the handsome but lackluster Pettyfer, charm). But after meeting him on a construction job, Mike takes a shine to "the Kid," as he calls him, and gets him hired as a backstage gofer at the club. On the Kid's first night there, a backstage accident (Tarzan passed out before his big number, OK?) requires him to take the stage and shyly remove his clothes to the strains of "Like a Virgin." The ladies go wild, and the Kid is brought on as a regular in the show, receiving personalized bump-and-grind tutelage from Dallas himself.
They grow up so fast: Before long, Adam is coming offstage each night with a thong full of cash money and blowing it on living the high life with Mike (in whom he shyly confides, the morning after their first all-night rager, "I think we should be best friends.") Mike flirts with the Kid's disapproving big sister; the Kid flirts with a pink-haired, empty-eyed party girl who carries her pet pig everywhere; and Dallas flirts with the heady possibility of making enough money to move the whole Xquisite operation to beachside property in Miami. A late series of plot developments about the Kid's involvement in a failed drug deal feels both rushed and unconvincing. But Magic Mike is at its best when it follows its easygoing titular hero through an average day (which might involve wearing coat and tie while being rejected for a bank loan or showing up at a friend's door at 7 a.m. dressed as Marilyn Monroe).
Half wish-fulfillment fantasy, half after-school special, Magic Mike is in many ways an unserious movie—but like many of Soderbergh's slicker entertainments, it's not without its moments of substance. The screenplay by Reid Carolin is in part based on Tatum's real-life experiences as a teenage stripper, and though the Xquisite may be a more utopian workplace than your average strip club, there's a thrum of economic urgency in the background of this movie. The need to hustle, to keep one step ahead of the system, is always paramount; every character is playing the odds in one way or another. The scene in which Mike unsuccessfully tries to talk a female bank employee into giving him that loan is as close as the movie gets to social commentary: In this economy, Soderbergh makes plain, a gift for the gab and a mouthwatering set of pecs will only get a man so far.
One strange feature of Magic Mike is the almost complete absence of overt homosexual desire from its story. This is a movie that invites us repeatedly to delight in the sight of sculpted, near-naked male bodies—we never do see any full-frontal nudity, but there are bare buns and flopping packages everywhere. Yet, though it's not out of the question that McConaughey's character might be gay—Dallas' sexual desire appears to be entirely directed toward himself—there are no male patrons in sight at the Xquisite. Nor do any of the regular dance crew—Ken (Matt Bomer), Tarzan (Kevin Nash), or Big Dick Richie (Joe Manganiello)—seem to have or be in the market for a boyfriend. Don't get me wrong: I'm fully in support of Magic Mike's pro-straight-dudes-gyrating-in-chaps platform, and like my viewing companion John Swansburg, I hope hetero men will flock to this movie and come out with a new appreciation for both the beauty of their own sex and the early '80s work of the Weather Girls. But insofar as Magic Mike is a (mostly) lighthearted summer fantasy about sexual and economic liberation through male stripping, it would be nice to see gay guys get in on some of the fun.