Bernie
Richard Linklater's perversely heartwarming tale about murdering an old lady.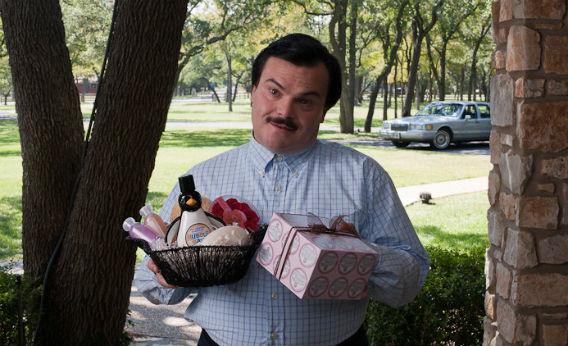 Click on the audio player below to listen to Slate's Spoiler Special podcast on Bernie after you've seen the movie.
"We cannot have grief tragically becoming comedy," announces Bernie Tiede (Jack Black) in the opening scene of Bernie, as he demonstrates to a classroom of mortuary-science students how to properly prepare a corpse for viewing. But that cross-contamination of genres is exactly what takes place over the course of Richard Linklater's new true-crime drama about an East Texas mortician who's convicted of shooting his elderly benefactress four times in the back. Bernie is a sui generis artifact: a perversely heartwarming folktale about murder. In interviews, Linklater has half-jokingly called it his Fargo, but this movie's folksy warmth is as far from the Coen brothers' chilly nihilism as … well, as Carthage, Texas is from Fargo, N.D.
Carthage is a real place in East Texas, where events very similar to those pictured in Bernie unfolded in the mid-1990s. Tiede, a thirtysomething Louisianan, comes to Carthage to work as an assistant at the funeral home and quickly worms his way into the heart of everyone in town. He teaches Sunday school, sings hymns like an angel at funerals, directs local theater productions, and comforts newly bereaved widows with house calls and flowers. (All this is explained to us by real-life Carthage natives, who, in talking-head interviews interspersed throughout the movie, express themselves with homespun wit and a felicity of language no screenwriter could match.) After a while, Bernie takes up with one particular widow, the very rich and very mean Marjorie Nugent (Shirley MacLaine). Together they go to the opera, take expensive trips, and get side-by-side massages—but what is the nature of their relationship? Is Tiede, as many of the town's old biddies conjecture, a closeted homosexual? Why does he let her boss him around so cruelly? And whether or not he and Marjorie get it on, would it be fair to say that their codependent, mutually exploitative relationship ("Bernie became her property," explains one Carthage native) counts as a kind of love?
If Bernie is a murder mystery, it's only obliquely so—the lingering question isn't who committed the murder (we see the whole thing happen, in dreamlike hyperreality, before our eyes), but who the person who committed that murder really is. Linklater allows Bernie's motives to remain an unknowable object of speculation, leaving open the question of whether he was a calculating widow-killer or a sweet-natured, weak-willed man who gave in to a moment of rage. Another enigma left unsolved is why so many people in Carthage warmly support their beloved Bernie, even after he'd confessed to shooting an old woman four times in the back. Was it only because of the generous gifts he bestowed on local charities in the widow's name?
Jack Black hasn't been so well cast, and so well understood by a director, since he last worked with Linklater, playing the head-banging substitute-teacher hero of the should-be-a-children's-classic School of Rock. Black's comic affect has always contained a curious mixture of cruelty and gentleness, which makes him the perfect choice to play the passive-aggressively generous Bernie. (Plus, of course, he really does sing like an angel.) Black is particularly brilliant at conveying this sinister doubleness in the scenes where Bernie covers up Marjorie's death. As he fends off her increasingly distrustful relatives and attorneys with an ever-spiraling set of lies, it becomes clear that, in order to live with his guilt, Bernie himself has bought the story wholesale.
Shirley Maclaine is plausibly awful as the belligerent, impossible-to-satisfy Marjorie, but it's a shame that her face has been too immobilized to show much of what goes on beneath. And Matthew McConaughey—another potentially hilarious actor oft misused by Hollywood, and another Linklater muse—is an unalloyed delight as Danny Buck Davidson, the limelight-loving Carthage D.A. who's determined to nail Bernie's hide to the wall with a first-degree murder count. But the real stars of Bernie are Fern Luker, Jack Payne, Sonny Davis, Kay Epperson, Glenda Jones, Travis Blevins … in short, the good people of Carthage, who, sitting on porches or the hoods of their cars, recount the strange story of Bernie Tiede and Marjorie Nugent as they recall it (the economical screenplay that ties these interview segments together is by Linklater and Skip Hollandsworth, who reported on the case for Texas Monthly in a 1998 article that inspired the movie). It's the townspeople's stories, and the lovingly amused attention that Linklater (an East Texas native) pays them, that make Bernie much more than a macabre true-crime tale: It's a story of thwarted love, not between two people, but between a man and a whole town.