A Very Harold & Kumar 3D Christmas
Go see this triumphant return to lunacy for the stoner pals.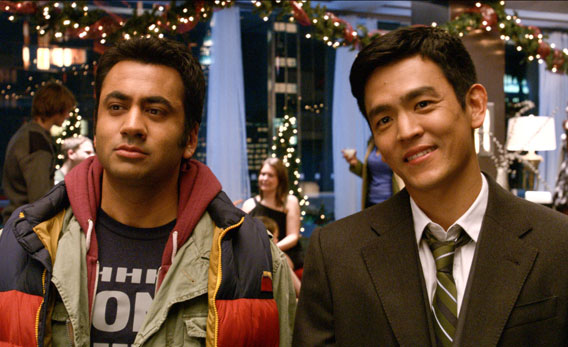 Click on the audio player below to listen to Slate's Spoiler Special podcast on A Very Harold & Kumar 3D Christmas after you've seen the movie.

The most offensive thing about A Very Harold & Kumar 3D Christmas (Warner Bros.) isn't the racial humor, the nonstop weed jokes, the fourth-wall-breaking Claymation penis, or the toddler hopped up on cocaine and ecstasy—it's the release of a Christmas movie only four days into November. But I guess trying to halt the march of the holidays backward through the calendar is as futile as preaching straight-edge sobriety to Harold Lee and Kumar Patel, the hapless stoner heroes of Harold & Kumar Go to White Castle (2004) and Harold & Kumar Escape From Guantanamo Bay (2008). The boys' first adventure together was their best by far, a "one crazy night" movie devoid of larger thematic ambitions than getting its two baked protagonists to Jersey for a hard-earned fast-food feast. Guantanamo Bay's attempt at Bush administration satire fell flat, but this third movie, a proudly unambitious buddy comedy, brings the franchise back to home turf, both geographically and thematically.
As the film begins, the former roommates have been estranged for several years. Harold (John Cho) has sworn off the magic herb and done well for himself on Wall Street. He's married to Maria, the Latina babe he followed to Amsterdam at the end of the last movie, and lives in a swank house in the Jersey suburbs. Kumar (Kal Penn), on the other hand, still spends his days getting high and watching TV in the ratty apartment he and Harold once shared. On Christmas Eve, Harold prepares for an onslaught of visiting relatives including his hair-trigger-tempered father-in-law, Mr. Perez (Danny Trejo of Machete). Meanwhile, Kumar gets a mysterious package addressed to his old roomie and decides to deliver it in person.
Cue a chain of mishaps resulting in the incineration of Harold's Christmas tree, a 12-foot Douglas fir that his father-in-law spent eight years growing. Harold has until 2 a.m., when the Perezes get back from midnight Mass, to find and decorate an equally majestic tree. For the next few hours (a brisk 89 minutes for the audience), the boys will find themselves thrown together in situations that steadily ramp up both in absurdity and danger level. They'll total an SUV, dodge the bullets of a Russian gangster (Elias Koteas), drink hallucinogen-spiked eggnog, and find themselves onstage in toy-soldier costumes for the Rockettes' Christmas show.
That last is headlined by Neil Patrick Harris, whose providential midcareer comeback began in part with his cameo role as himself in the first Harold & Kumar movie. Here, Harris steals the show in a single hilarious scene, sending up his real-life persona as a proudly out gay entertainer. In this movie's conceit, Harris is not only secretly straight—he's a lecherous "cooze-hound" who uses "that homo crap" to get public acclaim and lure trusting showgirls into his dressing room. Harris' lightning-fast shifts between cloying public persona and debauched true self are nothing short of virtuosic. (Harris' real-life boyfriend David Burtka also makes an amusing appearance.)
A Very Harold & Kumar 3D Christmas has some dispiriting laugh-free stretches. A subplot following the misadventures of the old buddies' new best friends, a tame suburban dad (Tom Lennon) and a tail-chasing nerd (Amir Blumenfeld), adds nothing to the movie, and the ongoing gag about Lennon's 2-year-old daughter inadvertently ingesting illegal substances throughout the night wasn't funny enough to justify its essential ickiness. But there's something about the two main characters—a stressed-out Korean-American overachiever and an easygoing Indian-American slob, two friends who can't complete a simple errand without descending into lunacy—that transcends the movies they appear in. Because I enjoy Harold and Kumar's company (or maybe just the company of Cho and Penn, who are pals off screen), I'm willing to forgive them a lot.
The writing team of Jon Hurwitz and Hayden Schlossberg, who created the Harold & Kumar franchise, has ceded directing duties to the first-timer Todd Strauss-Schulson, and what this 30-year-old newbie lacks in structural sense, he makes up for in boyish enthusiasm. The movie's use of 3-D is deliberately, goofily obnoxious, with pot smoke rings, blasts of holiday confetti, and, yes, a Claymation schlong all hurled merrily toward the camera. And a subplot about a subservient robotic toy called the Wafflebot gained momentum throughout the movie, getting more ridiculous and funnier every time the contraption rolled into view. This movie ends with the suggestion that Harold and Kumar may be mellowing with age. Though they're not averse to sharing a low-key Yuletide joint, their next unaccomplishable mission seems likely to involve buying diapers at Target. I just hope Neil Patrick Harris meant what he said when he took his leave of the boys in his Radio City dressing room: "See you in the fourth one."