How To Make a Justin Bieber Song
Producer Ariel Rechtshaid explains every holler and handclap in "Thought of You."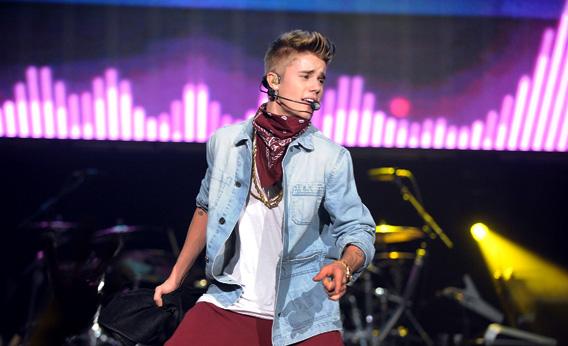 If you haven't yet heard the Justin Bieber song "Thought of You," it is only a matter of time. It's the ninth track on Bieber's third album, Believe, and while it has yet to hit airwaves as a single, its earworm potential is undeniable. There's something joyous about the way all the sounds come in and start grooving together, a blend of sugary synths, handclaps, and sirens. The song demonstrates the weird mix of euphoria and precision that now characterizes pop music: Every note sounds focus-group tested and groomed to perfection. You get the sense that the man behind the track is part composer, part gem cutter, and part drill sergeant.
The man behind "Thought of You" is Ariel Rechtshaid. He is a 32-year-old music writer and producer who has worked with a notably diverse set of artists, including Usher, Cass McCombs, Snoop Dogg, We Are Scientists, Glasser, and Theophilus London. He masterminded the 2005 platinum-selling ballad "Hey There Delilah" by the Plain White T's and is a veteran performer in his own right: He played guitar and sang for a ska-punk band called the Hippos in high school and later helped launch an indie rock outfit, Foreign Born. As a producer, Rechtshaid isn't as well known as Max Martin, Dr. Luke, or David Guetta (they're the kings of production, he's still a prince), but a string of wise partnerships, including an ongoing alliance with Philadelphia-based hit-maker Diplo, makes him an artist to watch. He lives in Los Angeles, where like many in the business, he uses the audio production software Pro Tools to compose, edit, and mix sounds. But, he told me in an interview recently, he's also stocked his studio with more old-school technologies: guitars and synths, drum machines, and analog recording equipment. "I'm big into playing and recording everything, then reviewing it, cutting out moments that feel good and bringing them together, just seeing what comes of it," he says.
While Rechtshaid's songs have the deliberate, micro-managed feel of a lot of modern pop music, they come about through experimentation. Rechtshaid builds songs from the ground up, without a particular vision in mind. He describes messing around with chords on the piano or guitar, haphazardly throwing in drum tracks, running everything through various distortions. One of his rules is not to repeat himself. That means trying to outrun not only the so-called "formula"—a typical hit's rote journey through intro, verse, pre-chorus, chorus, lift, bridge, and outro—but his own instincts. "I realized at a certain point that everything I knew, all my intuition, always got me to a place that I could predict," Rechtshaid explains. "That's less inspiring than when something unpredictable happens."
What's the most unusual song he's ever worked on? He points to "Climax," by Usher, which he describes as "all tension and very little release." Restless for a slow jam but reflective for a club track, the song throbs and smolders instead of "arcing" like a standard R&B tune. (It also just claimed the number three spot on the Pazz and Jop 2012 Singles chart).
But on a basic level, Rechtshaid says, pursuing the unpredictable just comes down to making counterintuitive choices sound-by-sound—reaching for sample B when he wants to use sample A. That he takes pride in rarely deploying the same sound twice shows how far pop music has come from the days when every hit consisted of guitar, drums, bass, and maybe keyboard. (For comparison's sake, today's standard audio production software includes more than 75 virtual instruments. These can be modified to create thousands of sounds—not counting all the sounds you can collect by recording actual instruments, running them through filters, and applying various effects such as fades and echoes. A single composition on Pro Tools can support up to 256 simultaneous tracks, and the typical pop smash layers at least 30. Overachievers like the Pink song "Raise Your Glass" incorporate more than 90.)
As a music fan and as a producer, Rechtshaid is genre-fluid. He loves Nirvana and Kurt Cobain; he admires Britney Spears for releasing songs that feel "clear and concise and 100 percent communicative." Some of his heroes include the Ramones, Fleetwood Mac, and Joy Division because "they have their own sounds" and "when the song comes on you can tell whose it is."
At times he comes close to denying that his own works share any aesthetic at all. He believes his job involves getting inside a band's headspace and channeling its peculiar spirit—because "every artist, every project, should be unique." If a common theme does animate his work, it may be some version of Ezra Pound's injunction to make it new. "I strive to create music that doesn't sound like anything else," he says. (At one point I ask him how it feels to reinvent the wheel every time he sits down to write. He replies that it's probably not good for his mental health.)
As for the hits themselves, each one has its own origin story. Sometimes an artist will call and request a track from scratch. Sometimes the call comes after Rechtshaid has already been toying with a few ideas and has a portfolio to vend. Sometimes he brings an artist what he thinks will be a beautiful fit and the artist rejects it. Sometimes, after that, the two begin an impromptu brainstorming session that produces radio gold.
"Thought of You" arose in a typically contingent, unforeseeable way. According to Rechtshaid, he and Diplo received a call from Usher requesting a meeting, so the two of them began working up a chord progression and some drum tracks. When they played the embryonic song for the star, though, everyone agreed that its tone felt slightly too bright. Usher, who is close to Justin Bieber, gave Rechtshaid his blessing to present the track to the Bieber camp. Though Rechtshaid didn't know much about the Canadian sensation, he reached out to the singer's team just before jetting off to the Caribbean to record reggae with Snoop Lion. The day he got back, he rushed into his first Bieber meeting with material he hadn't given much thought to for weeks. But none of that mattered; Justin loved "Thought of You"; Rechtshaid went home the same day and began tightening, polishing and adding effects. A few days later, he recruited Eric Belinger to write the top line (the melody and lyrics), some of which Bieber would alter and riff on during recording. The whole thing came together "remarkably quickly," Rechtshaid recalls.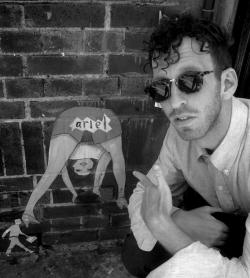 But what exactly goes into a hit like "Thought of You"? For Part 2 of our interview, I picked out a few of the song's most intriguing sonic elements and asked Rechtshaid to explain how he achieved that sound.
Slate: Any general comments about your goals for the song before we get to the specific sounds?
Ariel Rechtshaid: I was attempting to combine elements that didn't fit. Dreamy guitars with gospel claps, pitched dancehall airhorn with baby voices, tribal rhythms with disco orch hits, funky bass with a lot of distortion. In the end it was a pretty weird track. Fun but unusual. Eric Belinger really tied it in with a super catchy top line.
Slate: Great. I'm going to ask you about the sounds that occur at certain points in the song.
Slate: The song starts with a repeated note that's sort of a rhythmic drone.
Rechtshaid: It's a guitar loop doubled with an ARP Solina (string synth from the '70s).
Slate: Then there's an effect that sounds like a human voice crescendoing.
Rechtshaid: It's a reverse reverberation of Justin saying the first word ("girl"). It's achieved by reversing the word ("girl" in this case), printing a reverb off of the reversed word, and then flipping the reverb around. The end result sounds like a ghost swelling up and the word ("girl") slowly forming.
Slate: A bass line comes in with Justin. It's very crackly.

Rechtshaid: It's a bass guitar heavily distorted through a fuzz pedal. I use ZVEX woolly mammoth to achieve what you call the "crackle."
Slate: At the same spot again. Are those handclaps? Why handclaps?

Rechtshaid: Yes, I was messing around with rhythms and wound up putting the claps on the upbeat, kinda like a gospel thing.
Slate: A bit later, a low, echoing sound is alternating between two notes.

Rechtshaid: That's a few things together opening up in a filter: My voice, guitar, piano, and some synth pads are all blending together.
Slate: In the pre-chorus—is that a kid's voice shouting yeah?

Slate: At the beginning of the second verse, I hear an ethereal, drifting effect. I think it's holding one note, but the timbre is changing as the verse continues.

Rechtshaid: That's my voice bending up and down between two notes singing "ooh."
Slate: During the bridge, a lot of the layers strip away. What instrument makes those bell-like chord sounds?
Rechtshaid: It's my Mason and Hamlin upright piano filtered and with reverb.
Slate: What's happening with the siren right before the chorus comes back in?

Rechtshaid: That's a sound that accidentally came out of my Prophet-5 synth. Love the unpredictability of old analog synths. It makes coming up with new ideas easy.
Slate: What about the electronic beeping notes toward the end?

Rechtshaid: More fun with the Prophet-5.
Slate: Tell me about the zipper sound that finishes it out.

Rechtshaid: That is a typical dub/dancehall air horn cut up and pitched up gradually. I like how it brings the song to a close.
This interview has been condensed and edited.