The 13 Men in the Senate Health Care Reform Group Care About Looking Like They Care About Women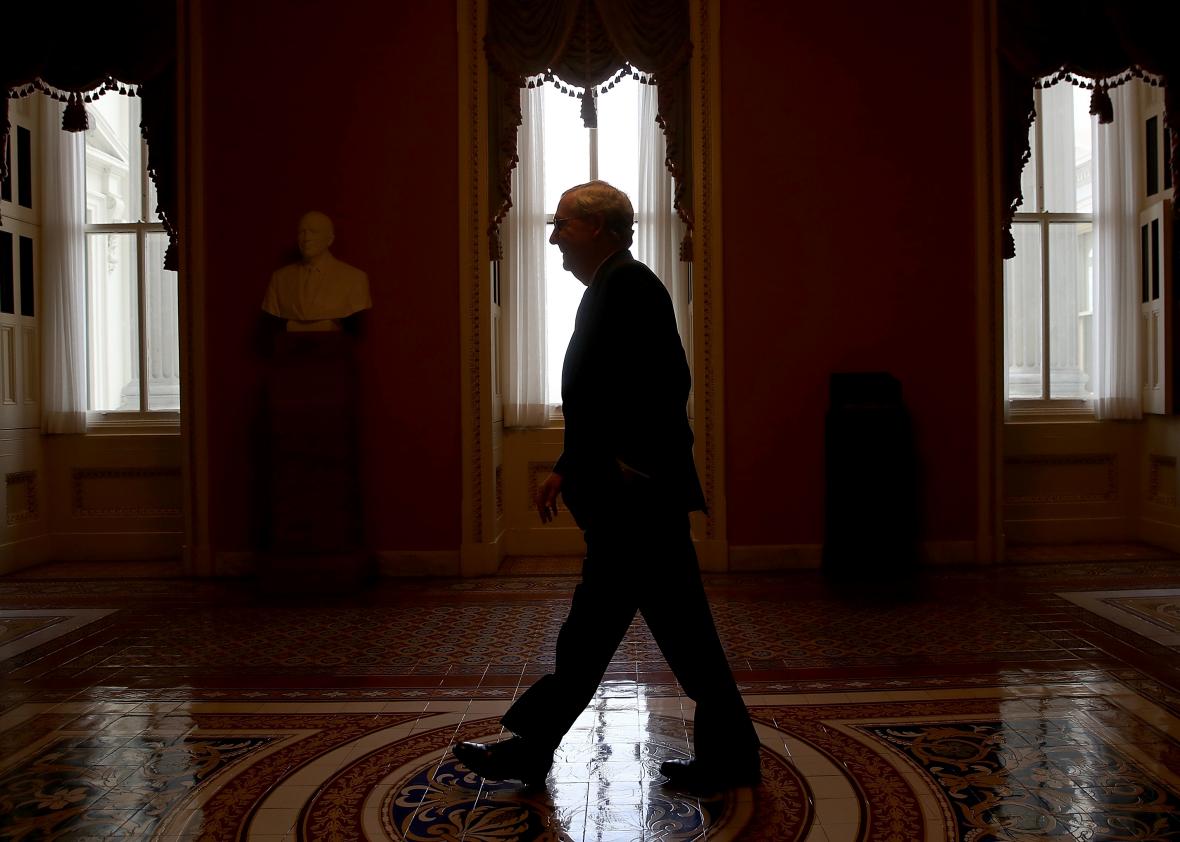 Quit your bellyaching, women—Senate Republican leaders have heard your complaints that their working group on health care reform included 13 men and no women and responded that, actually, "Everybody's at the table." "Nobody's being excluded based on gender," Senate Majority Leader Mitch McConnell told NBC News on Tuesday.
After the American Health Care Act, which would roll back many of the Affordable Care Act's protections, passed the House of Representatives last week, its next stop is the Senate. Majority Leader Mitch McConnell put together a group made of up 13 senators, all men, to address the issue and work on legislation. The group included McConnell himself and ultraconservative senators like Ted Cruz, who has advocated in the past for a complete ACA repeal, but no women, and this "speaks volumes about his direction and has raised eyebrows," the New York Times reported Monday.
The group's makeup drew criticism from CNN host Erin Burnett and Democrats like California Sen. Kamala Harris, among many others: "Thirteen men are deciding the future of American health care tonight," Burnett said on air. "Why couldn't they find one woman to represent the concerns of 126 million female adults in the United States of America?" With a group of 13 men, the 13 Reasons Why (American Doesn't Have Health Care) Saturday Night Live parody/mashup practically writes itself.
Though the group originally defended itself—"We have no interest in playing the games of identity politics"—now McConnell is trying to downplay that all its members are male. He advised reporters to devote more attention to policy and less to gender politics. This squares with what an anonymous White House official told as CNN's Elizabeth Landers.
NEW: sr White House official tells me they are adding women to the 13- person, all-male working group in Senate on healthcare bill-- @cnn

— Elizabeth Landers (@ElizLanders) May 9, 2017
MORE: official told me, "You'll see those optics addressed."

— Elizabeth Landers (@ElizLanders) May 9, 2017
Are McConnell and co. downplaying that the working group is all male because they realized how important it is for women's voices to be represented? Of course not. What they actually care about is "optics," or what this looks like, as Landers tweeted. And we can expect optics to be addressed, hence Sen. Shelley Moore Capito's appearance at a meeting on Tuesday, but not the actual substance. McConnell tried to draw a distinction between gender politics and policy, but in this case, the gender politics and optics are mere reflections of the fact that the ultra-conservative men who have been put in charge of our health care do not particularly care about protecting women's health. Even if they begrudgingly agreed to include a token woman in the working group, they've already made clear where their priorities lie.
It's interesting to look at which constituent concerns lawmakers make moves to address and which ones they decide they and we can all live with. Some people complain that this working group includes no women, so fine, they'll let a female senator sit in on the meetings as long as she's not made a real member, as Capito doesn't seem to have been. And some people complain that the Republican candidate for president is not fit for the office because he was caught on tape bragging about sexual assault, but nothing happens. Those, too, were some interesting optics.