FSU's Rose Bowl Loss Was Not a Victory for Rape Victims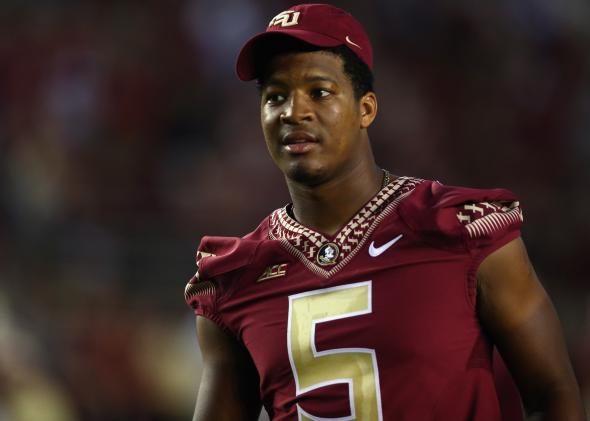 USA Today's Christine Brennan ripped Winston's performance in the game but admitted in a tweet that her words were fueled by "2-years worth of pent-up karma" originating from Winston's actions off the field. Rolling Stone's Janet Reitman deemed the game the "Best Rose Bowl ever," tweeting that "Oregon is doing to 'alleged' rapist Jameis Winston what [Florida authorities] refused to do." (Reitman later deleted the tweet.) After the game, Ducks players joined in the sexual assault awareness gloating, chanting "No Means No" to the tune of the Seminoles' (racist) "tomahawk chop." Oregon coach Mark Helfrich says that the players who participated in the post-game chant will be disciplined.
As Jezebel notes, some "Ducks defenders argued that the players were just loudly, vigorously stating their support for sexual consent." As one critic put it: "Oregon players will be disciplined for supporting women." Nah. The Oregon players are being disciplined for banal reasons that have nothing to do with the content of the chant. There's no rape exemption to good sportsmanship guidelines. In this case, "The University of Oregon expects our student-athletes to always maintain an attitude of respect toward our opponents." Even if that opponent is Jameis Winston.
This was, in the end, just a game. Football encourages emotional investment from its fans and bequeaths role model status to its players, but it's a step too far to grant the sport some moral authority when it comes to sexual assault. That's how Winston got off so easy in the first place.