Listen to Ray Rice's Lawyer Say the NFL Player Is the One Who Got Beaten Up, "Hypothetically"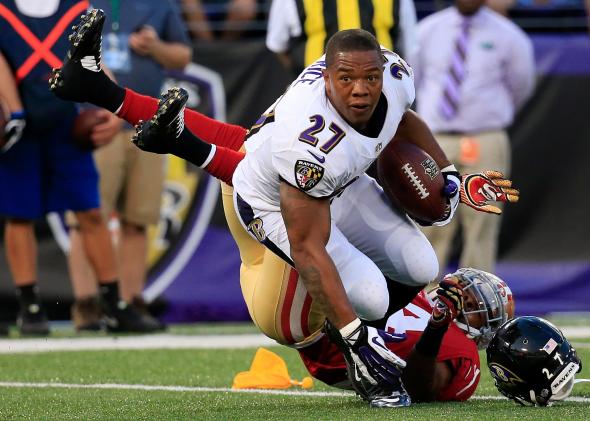 If you've seen the Ray Rice video, it's impossible to forget what happened inside that casino elevator on Feb. 15: a Ravens running back punching his then-fiancée (now wife) Janay Palmer, knocking her out cold, and then dragging her body across the floor. Before this week, when TMZ released footage shot from inside the elevator, all most of us had seen was the exterior footage, which showed Rice outside the elevator with the unconscious Palmer at his feet. Given that gap in the evidence, we had to rely on those who'd seen the full surveillance video to describe what exactly Rice had done.
As Deadspin points out, one man we relied on was Rice's lawyer Michael Diamondstein. Back in May, the Press of Atlantic City reported that Diamondstein—who had been granted access to the video—wouldn't confirm to reporters that Rice could be seen punching Palmer. "It's more complex than that," the lawyer said. "I can't break it down to you in words that quickly."
As a defense attorney, Diamondstein obviously wasn't going to incriminate his client. But later that month, after Rice was accepted into a pre-trial intervention program, he went a step further. On May 24, on a show called "Sports Bash Saturday" that airs on South Jersey's 97.3 FM ESPN Radio, Diamondstein said that "it's not like a man of Ray's character is going to then bash his wife in the media and say, Well, she did this, and so I did this, and so I did this, and then she did this." And then a few minutes later, Diamondstein proceeded to bash the victim of Rice's bashing.
In the clip below, Diamondstein lays out a "hypothetical" scenario—he says the words hypothetical and hypothetically six times in less than a minute—in which "Ray wasn't the first person that hit and Ray was getting repeatedly hit."
Deadspin's Tom Ley explains that "the narrative [Diamondstein] offers up more or less became the accepted one." According to Bleacher Report's Mike Freeman, this is what Rice told his Ravens teammates as well, "that he had no choice but to defend himself that day in the elevator." Forget the cute, smarmy hypotheticals: Rice's lawyer smeared the victim of a vicious domestic assault, and that smear worked exactly as intended, at least until TMZ released the footage of Rice punching Palmer in the face. This was not, Well, she did this, and so I did this, and so I did this, and then she did this. It was a brutal assault, and it was not more complex, or harder to describe, than that.