The Daily Show Takes on Harassing "Compliments" Women Like Kirsten Gillibrand Are Lucky to Get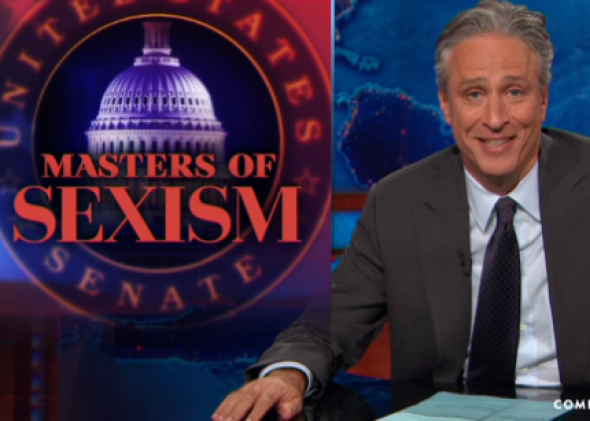 The ongoing, uh, debate over the acceptability of harassment and catcalling got The Daily Show treatment Tuesday night, when Jon Stewart covered the fallout from Kirsten Gillibrand's sexual harassment claims. In response to Gillibrand's story about a Southern congressman who told her, "You know, Kirsten, you're even pretty when you're fat," Stewart joked, "The gentleman from the great state of arousal yields his boner to the gentlewoman from New York."
Stewart ran a reel of various female pundits agreeing that playing avoid-the-creep is a daily part of life in Washington, including Andrea Mitchell, who declared that there are some men you just know better than to get on an elevator with. "Right. We all have our stories about which person, elected by voters in their state to a six-year term, vested with the powers to advise, consent, and declare war, you would not trust in the three to five seconds it takes to go from two to L," Stewart answered in exasperation.
But the segment really went to the next level with a clip from Outnumbered on Fox News, the show that basically exists to make excuses for sexism, on which Kimberly Guilfoyle said, "Look, men are going to be that way. What can you do?"
Another Outnumbered clip had male guest Arthur Aidala demonstrating his favorite technique for bothering women on the street who he feels need to give him a little more attention. I'll let Daily Show correspondent Jessica Williams handle this one.