Science Has a Gender Problem. Science Just Made It Worse.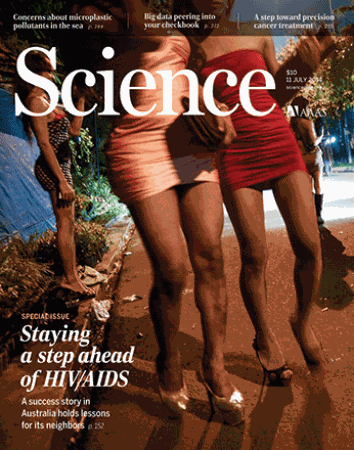 The cover of Science magazine's special AIDS and HIV issue hit mailboxes on Wednesday: It shows the legs and minidress-clad torsos of transgender sex workers in Jakarta. The women have breasts but no heads. "Staying a step ahead of HIV/AIDS," reads the display text, a winking inch or so away from their stiletto heels. Though transgender sex workers are a "key affected population" for the epidemic in Indonesia, they are often overlooked by government health services, which is ostensibly why Science chose to splash bits of their anatomy on its cover. If transwomen get ignored, though, it's in large part due to prejudice—and in that respect the optics of the Science tableau do more harm than good.
The Slantist sex blog explains this car wreck of noble intentions pretty well. "Instead of showing viewers a humanizing glimpse into the lives of these women," writes A.V. Flox, the cover objectifies their bodies. It uses their bare legs as bait to lure in male readers, and then reverses the readers' expectations in a way that's supposed to be … funny? "Interesting to consider how those gazey males will feel when they find out," tweeted Science editor Jim Austin gleefully. Because transgender women with AIDS are great comedic fodder! "Am I the only one who finds moral indignation really boring?" he continued. If only. Update, July 17, 2014: Science editor-in-chief Marcia McNutt has expressed regret about the image on the magazine's July 11 cover. "From us at Science, we apologize to those offended by recent cover. Intent was to highlight solutions to HIV, and it badly missed the mark," she wrote in a tweet.
But sexist and homophobic (and racist) exploitation just kicks off the July 11 issue's offenses. As Flox also points out, the cropping commits a metaphorical decapitation. It takes apart the bodies of people who go through life at terrifying risk of violence and murder. Transgender people are 28 percent more likely to experience physical brutality than those who are gender normative. In that context, the choice to lop off their heads for aesthetic effect—especially when the magazine so rarely depicts human subjects without their faces—seems chillingly insensitive. (Flox found that over 10 years of Science covers, only two featured free-floating body parts, and they did so in a nonsexual manner.)
Pro tip: When you "raise awareness" about the plight of an underserved group of people, the type of awareness you raise matters. Transgender sex workers should not be expected to thank Science for "raising awareness" of them as erotic objects, jokes, or disease vectors. The STEM fields have a reputation for exclusiveness, for ushering straight white men to the front of the line, and this particular magazine's treatment of its subjects—Typhoid Marys who are also hot, and fake—is unlikely to challenge that perception.
Indeed, it's only gathering steam. On Wednesday, Vox reported on a paper in the journal PLOS ONE suggesting that sexual misbehavior may be more prevalent on field sites than we thought. Roughly 71 percent of female scientist respondents told researchers they had experienced harassment or assault. This is not good publicity for a discipline that desperately wants and needs to increase diversity. Transgender sex workers may have an image problem, but so does science—and now, Science.