Future and Kanye Release a Video Game. Players "Toss a Chain" Around Women in Bikinis to Score.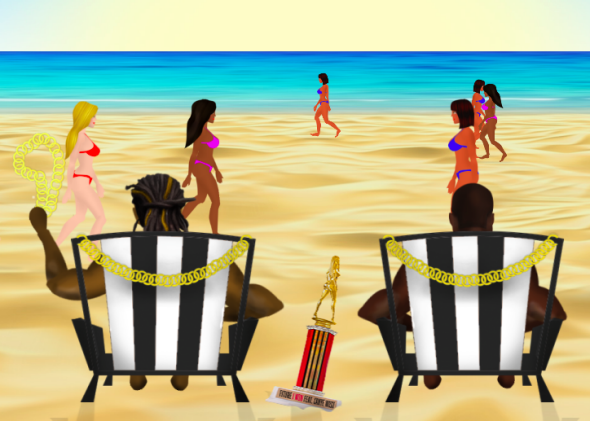 On Future's new album, Honest, the Atlanta artist teams up with Kanye West for "I Won," an ode to their respective fiancées, Ciara and Kim Kardashian. It could've been a poignant reflection on love and the prospect of marriage like, say John Legend's "All of Me," but instead the two created a gross display of the male ego in which they brag about having "won" "trophy" wives-to-be. ("Girl when I'm with you, feel like a champion/Ever since I got with you I feel like I done won me a trophy," Future sings.)
Future and Kanye West take things to a new low with their "I Won" video game, released Wednesday night. In the game, users play as either Kanye or Future, who are seated on beach chairs facing the ocean. With "I Won" on loop in the background, you're then instructed to "toss a chain on your trophy," according to the directions, with the "trophies" in this case being the dozens of bikini-clad women walking across the sand. And when you successfully chain these women, they're replaced with a literal trophy—an obvious visual allusion to Beyoncé's "Drunk In Love" video, I might add.
But there's absolutely nothing complimentary or "uplifting" about being called a "trophy wife," defined by the OED as a "young, attractive wife regarded as a status symbol for an older man." Wives aren't possessions—women can't be owned; men can't just win them. In the song, Kanye gloats, "I want to dip that ass in gold, I want to dip that ass in gold/I made it over NBA, NFL players/So every time I score it's like the Super Bowl," proving that there are only losers in "I Won."