Rush Limbaugh Compares Filibuster Reform to Allowing Rape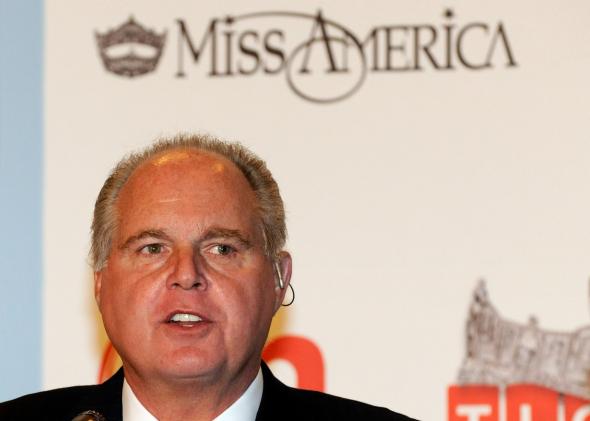 As expected, Rush Limbaugh is trying to drum up outrage about the new rule change in the Senate that now stops Republicans from filibustering every time President Obama even dares to consider using his right to nominate judges for federal courts. It's a hard sell, even for Limbaugh's breathtakingly gullible audience, because it requires convincing them that it's profoundly evil to accept the principle of "majority rules," a principle they were told to defend back when Republicans had the majority in the Senate. So he reached for a good analogy:

Let's say, let's take ten people in a room and they're a group. And the room is made up of six men and four women. Right? The group has a rule that the men cannot rape the women. The group also has a rule that says any rule that will be changed must require six votes of the 10 to change the rule.
It went in the predictable direction, which you can hear here:
"When the majority can change the rules, there aren't any," Limbaugh whined, capping off a remarkable speech that likened the democratic process to a gang rape.
The rape comparison is distasteful and casually misogynist—par for the course—but it also comes with a big side dose of unintended irony. After all, one of the major reasons that Republicans have been routinely blocking Obama's nominations is that they are deemed too invested in a woman's right to bodily autonomy. One of the filibustered nominees, Nina Pillard, was widely denounced in conservative circles because her support for contraception and abortion rights is rooted in the belief that a woman should be able to control how her body is used. Luckily for us, Limbaugh's angry rantings won't change a thing and next week, we should start seeing Obama's nominees finally getting confirmed with a simple majority vote.