Check Out Emily Bazelon on The Colbert Report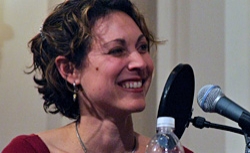 Did you make the huge mistake of sticking with cable news after the debate ended last night? If so, you may have missed Slate's own Emily Bazelon talking affirmative action and the Supreme Court with Stephen Colbert.
Thanks to the Internet, you can watch now:
TODAY IN SLATE
Medical Examiner
The Most Terrifying Thing About Ebola
The disease threatens humanity by preying on humanity.