Book of the Week: Taylor Stevens' "The Informationist"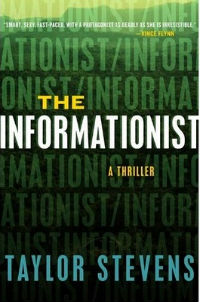 The world of thriller fiction-at least, thriller novels read by more than three people-contains more damsels in distress than heroines who kick butt. That was one of the primary draws of Stieg Larsson's Millennium series : Lisbeth Salander, the quirky and chippy genius with her own sense of justice and vengeance.
So the rave reviews of The Informationist , filled with promises of a Lisbeth-like heroine, drew me in. Publishers Weekly called it "blazingly brilliant," while USA Today said that the novel's heroine "lives up to the hype." There were other promising elements, too: It's set around the world but with special focus on the strange country of Equatorial Guinea. Since my favorite detective fiction series is set in North Korea , I was primed to enjoy a thriller's-eye view of another country I know little about. And then there's the author's compelling back story: Taylor Stevens grew up in the infamous Children of God religious group, living a nomadic, globe-trotting childhood that is reflected in her heroine's own inability to feel at home in any country.
The kindling is great. But though I wanted to love it, the fire did not ignite. Those infernal comparisons to Lisbeth Salander had set me up for disappointment. Vanessa Michael Munroe-known mostly as Michael to the few she counts as friends-is no Lisbeth.
Michael is a woman of many gifts. She speaks about two dozen languages, developing fluency in two months' time. The sight of her body a slim-fitting dress renders powerful men incapacitated by arousal. She can kill a half-dozen trained soldiers without losing her sexy. These skills make her a comfortable living as an "informationist," someone dispatched to unstable nations to collect data for businesses considering investing in developing (and not-yet-developing) nations. When we meet her, she is tapped to help track down a tycoon's adopted daughter, who went missing somewhere in Africa. Michael, the daughter of American missionaries, grew up there and elects to revisit the grounds where she learned how to stomp with such force. Intrigue and trickery and rapid language-learning ensue as the bodies pile up.
Michael and Lisbeth share intelligence, curtness, a rigid sense of justice. Both endured abuse. But where Lisbeth's unpleasant demeanor made sense, Michael's toughness is less a symptom of her demons than a serious superiority complex. She has been to so many countries, speaks so many languages, knows the world so well that she just can't identify with most people. And that's fine, except I couldn't help shake the feeling Stevens wanted me to admire Michael. A good thriller protagonist needs to be flawed, not so perfect that it's a flaw. Yesterday, Jezebel's Dodai Stewart touched on the problem of hot babes skilled in bloodshed, writing, "A hero isn't just a person with a gun; a hero is someone fighting for a cause, for a purpose, and not just because it looks cool." Here and there we get some sort of motivating factor for Michael's badassery-cash, revenge-but each feels thin.
I likely would have loved the book had I not been disappointed in the way Michael measured up to Lisbeth. Stevens can't help the way her book is marketed, of course, but I hope that she can make Michael her own character instead of just a copy of the brilliant Lisbeth. Michael will likely be the star of many more thrillers to come, and perhaps I'll grow to love her. The Informationist had other good points, including a double, nay triple, -crossing plot that actually made sense, unlike many a thriller. Perhaps as she preps the next novel Stevens will take another look at Lisbeth Salander and realize how much she has to live up to. I think she can rise to the challenge.