Christine O'Donnell: The First True New Media Candidate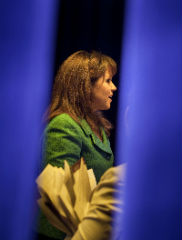 Christine O'Donnell is an endless source of YouTube delight: Earlier this month, clips of the Delaware Senate hopeful talking about the evils of masturbation surfaced . Then over the weekend, Bill Maher, who had O'Donnell on his show Politically Incorrect frequently in the '90s, revealed that the anti-wanking Tea Partier also "dabbled in witchcraft ." Back in 1999, O'Donnell told Maher and company, "One of my first dates with a witch was on a satanic altar, and I didn't know it. I mean, there's little blood there and stuff like that. ... We went to a movie and then had a midnight picnic on a satanic altar." Her youthful idiocy is like catnip for bloggers-the XX Factor is no exception .
Though certainly O'Donnell is an extreme example, I wonder if she is a harbinger of political coverage to come-by which I mean, I can foresee a media universe in which old, dumb Facebook posts and unearthed tweets become a consistent source of fodder for journalists. O'Donnell is 41, so her earlier transgressions were on an older media, television. However, the incredibly quick dissemination of O'Donnell's ridiculous comments is all thanks to blogs and online video. Budding candidates a decade or two younger have lived their entire adult lives with these media. They've also lived in a world where most people have camera phones and even video-so there is an even greater chance that mistakes they made in their college years and beyond will be available for public viewing. If he were 20 years younger, perhaps a photo of Barack Obama with cocaine in the background would have shown up on Facebook; or if they were 40 years younger, George W. and Clinton might have been caught red handed on camera, clutching doobies. Just look at what happened to wunderkind Obama speech writer Jon Favreau, who was embarrassed when photographs of him groping a cardboard cut-out of Hillary Clinton surfaced.
All of this is not to say that O'Donnell isn't an outrageous case: It's probably tough to find anyone who admits to dabbling in witchcraft and hating masturbation on camera. But at this point, if you're under 30 and don't live in a yurt, you've probably done or said something embarrassing that someone else would be able to find in the Internet ether. I look forward to watching the videos of future candidates saying stupid things at frat parties for years to come. Clip of O'Donnell from that oh-so-'90s Politically Incorrect episode is below.
Photograph of Christine O'Donnell by Brendan Smialowski for Getty Images.