What We're Learning About Christine O'Donnell's Sister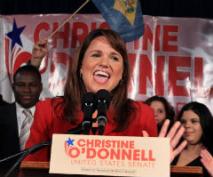 If Christine O'Donnell has confounded some observers with her troubled financial history, her overstatements about her education level, her doubts about evolution , her concerns about satanic worship , and her efforts to stop people from masturbating , her sister may well prove nearly as interesting. We are learning now about Jennie, a "spiritual psychologist, actor, meditation teacher," and "doctor of metaphysical universe studies," who is reportedly gay and has also reportedly helped campaign for her sister , the new Republican nominee for senator from Delaware. David Corn and Suzy Khimm have done some poking into Jennie O'Donnell's Facebook and LinkedIn pages and find that her "likes" include the National Center for Lesbian Rights and that she considers herself a "conservative liberal." Most recently, they report, Jennie posted the following message to her Facebook page:
"to all my friends and family..thank you for your great wishes […] and support of my sister,no matter what lies were made up about her...oh.. p.s. haave you heard the latest? she's homophobic... gotta laugh"
What is homophobia, again?
Photograph by Mark Wilson for Getty Images.