Republican Candidate Crusades Against the Girl Scouts, Tries To Hide It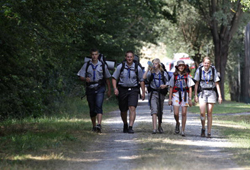 The Girl Scouts allow homosexuals and atheists to join their ranks, and they have become a pro-abortion, feminist training corps. If the Girl Scouts of America can't get back to teaching real character, perhaps it will be time to look for our cookies elsewhere.
Zeiger is now trying to get his more absurd essays removed from various right-wing sites, arguing that they're a "distraction" to his political campaign (PR-speak for "you do not mess with people's favorite cookies and get elected"). Surprisingly, this is not the first time conservatives have railed against the Girl Scouts. Back in 2008, Townhall.com columnist Kathryn Lopez took offense at the fact that Planned Parenthood was allowed to distribute an informational packet about HIV at a Girl Scout convention. You know, because information leads to homosexuality.