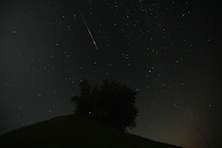 It was one of the rare goals of summer that I actually pulled off at our house: Last night was the peak of the Perseid meteor showers , and my 9-year-old and I stayed up for it. In all honestly, it neared becoming a bust: Clouds drifted overhead frequently, and he was so sleepy (I actually let him fall asleep outside, then went out and woke him at midnight for viewing) that I think he only clocked one or two meteors. But it's already clear that he remembers it as magical.
The Perseids peaked last night, but it takes several weeks for the earth to pass through the meteor shower from the tail of the Swift-Tuttle comet, so if you're so inclined, tonight would still be good viewing. Last night came in at about 40 "shooting stars" per hour (which meant I saw six or seven, and Sam probably two, but we would have done better had it been clearer). They're best in the pre-dawn hours, so it might even be worth it to wake up rather than staying up (painful though that sounds). Tonight the meteors will be slightly fewer and far between, but your kid is still pretty much guaranteed to get at least one "shooting star" to wish on.
Better yet, this is a summer memory, the kind that links you back to summers past (the Melendys watched the Perseids in Then There Were Five ) and summers future. You can't really improve on laying back with your mom or dad in a hammock, up past bedtime, staring out at the stars-although should you want to, you can download the Star Walk app for your iPad or iPhone and tech up the night. But maybe this time, when it's less about constellations and education and more about watching the end of sumer spin infinitely by, you'll just want to put an arm around your kid, and gaze.
Photograph of the Perseid meteor shower by AFP.