What Kate Middleton Can Learn From Fergie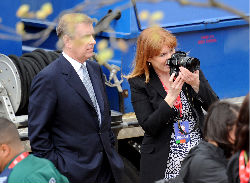 Fergie was 27-just a year younger than Middleton is now-when she married Prince Andrew in 1986. This is in contrast to Princess Diana, who was just 20 when she was wed to Prince Charles. Even though Fergie was ostensibly mature then, she still buckled under the scrutiny of being a princess: "Even at my dizzy height of popularity, I knew the clock would strike 12 and I'd be seen for what I was: unworthy, unattractive, unaccomplished," she wrote in her memoir, according to ABC News . What's more, the palace is a hothouse, and Middleton should be prepared to be monitored by the royal family just as much as she's observed by the public. There are already reports that Middleton was forced to stop pursuing a career in photography because the royal family felt it was "not appropriate ."
The fall-out from Fergie's time in the palace continues with her latest scandal, in which she was caught by a tabloid selling access to her ex-husband in exchange for cash, which is just the most recent indignity. After becoming a princess, Fergie would never again be able to be a free agent. Middleton needs to know that becoming William's wife, even if she gets a divorce, is a lifelong responsibility.
Photograph of Fergie and Prince Andrew by Gareth Cattermole/Getty Images.