Why Kagan's Bald Ambition Is Good for Women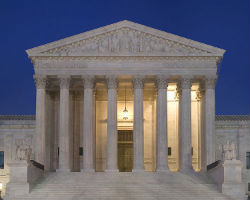 According to a New York Times profile of potential future Suprme Court justice Elena Kagan, the former Harvard Law School dean was openly aiming for the Court even in high school: She posed for her yearbook with a gavel and a judge's robe and included a quotation from Justice Felix Frankfurter. I'll bet that really stood out amidst the Fog Hat lyrics and big hair of her fellow Hunter High School grads in the '70s. But seriously: Kagan is described in this article as "cocky," "strategic," "extremely aggressive," and almost "calculated." A high school chum told the Times , "[The Supreme Court] was a goal from the very beginning. She did talk about it then."
That Kagan was so comfortable with her ambition from an early age is a great thing. Too often, women looking to advance in the political sphere try to mask their drive because it is seen as unfeminine-see the incredibly ambitious Sarah Palin, who said that she "never really set out to be involved in public affairs, much less to run for this office," after her nomination for VP. Democratic women shy from their ambitions as well: As Alexandra Starr pointed out in a DoubleX article from last year (about the openly striving Kirsten Gillibrand) , Nancy Pelosi "says she only ran after her then-dying predecessor, Sala Burton, begged her to." Kagan never pretended that her goal was anything but the Supreme Court, and rather than being punished for her youthful, unvarnished drive, it's paying off.