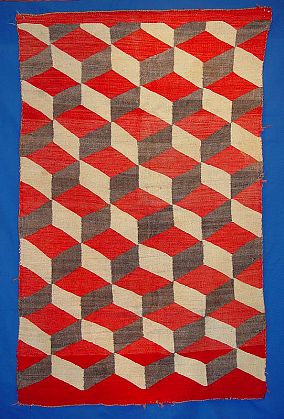 One of my favorite stores in New York is Paula Rubenstein Ltd. , home to all kinds of anti-mass production curiosities including giant balls of string (and barbed wire), a driftwood lamp the size of a sixth-grader, and the most comprehensively fabulous collection of Navajo blankets you'll ever see. They don't necessarily come cheap-this is Soho, not a thrift store in Wyoming-but I consider each one a work of art.
Native American motifs have swung in and out of vogue for decades: Ralph Lauren has long recognized that Navajo sweaters are just as American as preppy cableknits and Western-themed movies have kept the look alive. But there were some dark years in the 1990s for the colorful stripes, diamonds and checkerboards I love so dearly: Think Barbra Streisand album covers or the Arizona Jeans Company at J.C. Penney. A Navajo-printed denim jacket (paired with a turquoise bolo tie) or an entire duvet set may never look chic, but let's ponder some updated applications for our predecessors' handiwork:
-Upholstery: why not upholster an occasional/slipper chair in one of these incredible rugs ? If yours is a museum-quality I wouldn't cut it up, but if George Smith and ABC Carpet can cover entire sofas in old kilims I see nothing wrong with repurposing a geometric blankie. Try centering a diamond design on the seat and back.
-Wall decoration: Hanging rugs and textiles feels a little grandiose, yet I love the idea of three or four unmatching blankets on square canvas stretchers hung against a long neutral wall. Would also make a graphic headboard panel.
-Furniture adornment: faithful reader Evan sent this pic of his kilim-covered Parsons dining table -pretty genius, no? This is definitely a DIY project fit for a sturdy cotton rug, not a blanket, but a good glue/staple gun and some elbow grease would do the trick. Maybe start with an Ikea side table and pay special attnention to mitering the corners, as Evan did here.