The Glass Console Ceiling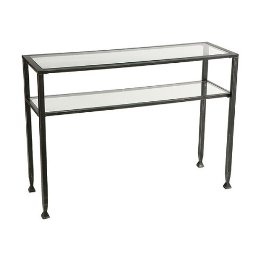 Now that not one but two kind readers have followed my lead on the Rustoleum Red Insta-Makeover I feel positively drunk with power and influence! Or maybe just a little hungover from the weekend's festivities. In any case, I got thinking about other semi-easy furniture tricks while browsing eBay over the weekend: I found so many nice, inexpensive metal table frames (console, coffee, side, etc.) that were done in by a thin glass top. Now, I could see the style in a 3/4- or 1-inch thick piece of clear glass with that pleasing green color on the side-that has a dramatic sense of heft to it-but inset glass-top tables are a major pet peeve.
Why, you ask? First is the flimsy factor. I just hate how setting down a glass (or anything more substantial than a weekly magazine) rattles a glass table; the clanky sound hurts my sensitive ears. Second, I can't shake the Raymour & Flanigan association: Every other table in a chain furniture store has a glass top! Finally, and this may tick a few folks off ... I really can't stand protective glass on any table, even the skirted variety. It's so precious! Like, "We don't wear our shoes on the white carpet." Unless your center table is on loan from the Wrightsman Galleries, I'd just invest in some coasters.
On to my trick: I'd buy any cool, cheap console table like this $130 Giacommetti-lite number from Target or this mixed-metals Regency eBay steal , measure the existing glass top(s), head to Home Depot, Lowe's, or the lumber yard, and have 1/4- or 1/2-inch cabinet-grade plywood cut to fit. Take it home, sand down the top and edges (using wood filler if necessary), prime, and paint in an OIL-BASED high-gloss enamel in a pretty color. Voila, lacquer-inset-top gorgeousness! The more ambitious might try some decorative painting techniques ...  a simple two-tone chevron, perhaps?