The Devil Wears Malachite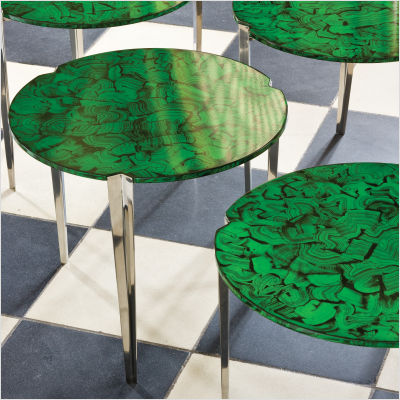 So this weekend I rushed to see The September Issue , R.J. Cutler's delicious documentary on the personalities behind Vogue (the magazine, not the patterns company ). A proper tagline might've been "Passive Aggression is Always in Fashion." Seriously, though, I left the theater re-inspired to decorate and decide what would fill my own fall decorating issue:
Tubular steel and cane : The combination of these two materials used to signify the worst of the 1970s, but the fickle finger of fashion has flicked my ears once again. Don't Marcel Breuer's "Cesca" chairs have a kind of Woody Allen-movie quality? Like that lovable, New York yuppie intellectual feeling in Hannah and Her Sisters , in which Dianne Wiest whines: " 'Where did April come up with stuff about Adolf Loos and terms like "organic form"? Well, naturally. She went to Brandeis.' " I could see myself in layers of tweeds a la Diane Keaton, pulling up one of these chairs to dine at a smoked mirror-top table. Quite spendy bought new, but they come up at flea markets and eBay all the time.
Africa : For me, the furniture and art of this rich continent have seemed at times both taboo and passé-a kind of insulting neo-primitivism or Peter Beard safari pastiche. But with the outrageous success of the North African-born Yves Saint Laurent's auction last February, I'm reminded that modern artists like Picasso and Fernand Leger turned traditional African masks into Cubist portraits, and suddenly all those noses on cheeks look fresh again. Also, 'round our office a birthing stool is the decorating accessory this season. Honest! Every room, especially those on par with YSL's decorator Jacques Grange's, needs something rough, low, and sculptural for balance.
Amethyst and other stones : When I was but a wee lad I collected all manner of stones ... my (bewildered?) pa even drove me to the mountains of North Carolina one year for my birthday to mine for rubies. Now don't I feel vindicated that gems and minerals have made a huge comeback in style circles? Rock crystal lamps like Anthro's (a whopping $2,200) combine Stevie Nicks mysticism with Big Sur crunchiness, but retailers are now mining amethyst (heh) for its purple power. And to my eye nothing goes better with purple than green, so pair it with malachite-not just for Russian oligarchs anymore!-like one of these faux finish tables from Global Views (pictured, $284 each).
Photograph of Anna Wintour by Neilson Barnard/Getty Images.