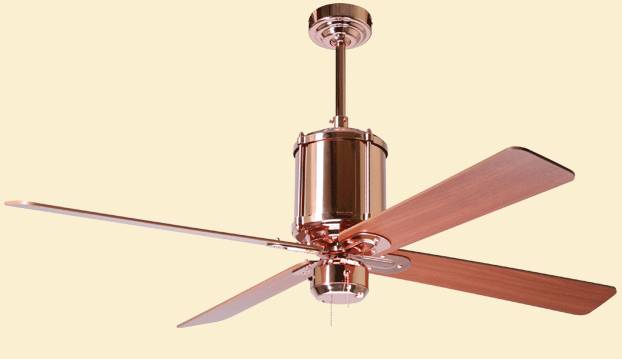 Summer has finally arrived in New York and it's a steambath. My pores are open, my windows finally closed, and my little A/C unit keeps hissing away, stretched to its BTU capacity. But like a pre-concert Madonna sometimes I just need to turn off the cool machine ... and then rely on my trusty ceiling fan.
I could probably pose this question every week in a different category, but why are most fans so ridiculously fugly? From contemporary brushed nickel spaceships with frosted glass fixtures to West Indian pastiche nightmares with wicker blades, fans are just trying too hard to make a style statement. So thank goodness for the Modern Fan Company . I own one of their Cirrus Huggers (no payola here, I coughed up the list price) and despite Mugatu's requisite jab ("Don't you think it kind of looks like a suppository?") I think it's fabulously anonymous and functional. Major power with a high clearance for my low-ish ceilings and, best of all, a dimmer for the simple dome light fixture.
If I had an additional foot overhead I'd spring for one of these Industry fans (pictured, $328). I've said it before , but copper is such a chic and underrated finish! It's billed as MFC's "first retro fan" yet there's nothing too old-fashioned about it. I might paint the blades glossy black though, a more interesting combination. A friend and client has the galvanized version in her kitchen and she painted them to match her cabinets. Yes, you can paint a ceiling fan! I think my Cirrus will end up Yves Klein blue before long.
I wish a company like, say, Hunter, would take MFC's lead in the traditonal market and refine their Low Profile series. Better colors and finishes would make such a difference on this simple design. Then I'd be a fan, for sure! (Sorry.)