The White House: "Family-Friendly" for a Few?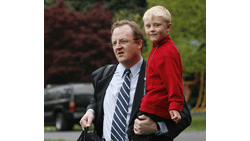 I read Liza's summary of Mimi Swarz's take on mature women in the most powerful workplace in the world with some interest. After all, I'd previously written on the preponderance of single women in the Obama White House , lamenting the fact that a bold-face name like Melody Barnes put off marriage for years, in order to run policy in an administration poised to overhaul health care, energy action, and the economy. And it is perhaps telling that I thought of these women-Susan Sher, Valerie Jarrett, and Desiree Rogers included-as single women rather than empty-nesters. Of course, not all the women with grown kids are unmarried (see Hillary Clinton), but the empty nesting bit means that, "like their male counterparts of all ages, they don't even have to think about the babysitter." When you put it that way, it sounds kind of great.
Rachel Swarns parsed some of this for a recent story in the Times about how family life remains difficult for those members of Obama's staff who have children still at home. The 60-70 hour weeks sound even rougher when the job is to save the planet, or the economy-and the pain seemed to know no gender:
Peter R. Orszag, the White House budget chief who is a divorced father of two, works so many weekends that he often imports his parents to help care for his 9-year-old daughter and 7-year-old son. "We're still sort of groping here," Mr. Orszag said.
As for Mr. Emanuel, he recently squeezed in a swim with his two daughters, 9 and 11, at 5 a.m. "No matter how much the president tries-and he and Michelle try, they do-the White House is brutal on family life," said Mr. Emanuel, who has struggled to make time for his wife and three children since they moved here from Chicago.
After being tipped off by a XX-sympathetic friend at 1600 Pennsylvania, I found that the White House is even less pro-family than you'd think . For all Michelle Obama's paeans to work-life balance, maternity and paternity leave has never been guaranteed to federal employees-including those working for Obama. It wasn't until June of this year that the House of Representatives passed a bill correcting this marked divergence with the 1993 Family and Medical Leave Act-a vote still likely to be torpedoed in the Senate, thanks to its $938 million pricetag. According to one critic:
"These are tough times, regardless of what industry you're in," said Rep. Christopher Lee, R-N.Y. "Think about the retail workers who are being forced to do more with less. Think about that, when Washington turns around and offers more generous fringe benefits to public sector employees."
Ouch. I hadn't thought of caring for a newborn as a "fringe benefit"-but apparently only 53 percent of private companies offer similar time off. And their duties do not, presumably, include running the free world.
As Liza writes, this doesn't affect the women on top. To get to the level of expertise needed in the White House War Room, you're most likely at least 40. But if you're somewhere just under there, it seems you're no longer allowed to procreate-because when the baby comes, you'd be Compromising National Security by Leaving to Raise Your Child. The horror!
It would be nice to see the "pro-family" president lean on Congress to get this bill to his desk.
Photograph of White House Press Secretary Robert Gibbs and his son Ethan by Aude Guerrucci/AFP/Getty Images.