A New Day for New Delhi's Gays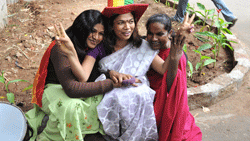 The law overturns Section 377 of India's penal code, a colonial-era statute that prohibits "carnal intercourse against the order of nature with any man, woman or animal." The New York Times quotes from the judges' 105-page decision: "The inclusiveness that Indian society traditionally displayed, literally in every aspect of life, is manifest in recognizing a role in society for everyone ... Those perceived by the majority as 'deviants' or 'different' are not on that score excluded or ostracized."
The ruling isn't without controversy, and the decision only applies to New Delhi, India's capital city. But according to the Times , there are likely to be ripple effects-lawyers and advocates say that the government will be forced to "appeal the decision to the Supreme Court, or change the law nationwide."
A friend of mine posted this article from the Hindu on Facebook a few days ago-it's an account of Chennai's first Rainbow Pride Parade:
"I never thought this would happen in my lifetime in Chennai…," D. Chandrasekaran, an IT professional, said laughingly. All around him hundreds marched on the Marina on Sunday evening, united by the belief that "Hues may vary but humanity does not."
India, of course, is a huge and sprawling country, and social mores won't change overnight in all corners. The line that killed me in the Hindu article was this one:
"We should not be afraid to come out and say we are gay," said a participant who had come from Chidambaram, wearing a mask.
Hopefully, a day will come in India when the masks won't be necessary.
Photgraph of women celebrating in New Delhi by Dibyangshu Sarkar/AFP/Getty Images.