The Rise of the Empty Nesters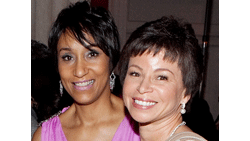 Speaking of being bummed out, I felt oddly blue after reading Mimi Swartz's excellent piece in The Daily Beast about empty-nesters in the Obama administration. Swartz, who also writes for Double X about being an empty nester herself, talks about (and to) White House senior adviser Valerie Jarrett, and also offers up WH Social Secretary Desiree Rogers and First Lady Chief of Staff Susan Sher, among others, as collective proof that professional life isn't over for women-in some ways it's just beginning-when their kids leave for college. This may well be true, and it's striking to see so many redoubtable women in positions of power. I admit to a keen fascination with Jarrett and Rogers, who live in the same apartment building on the Georgetown canalfront and who I like to think of as popping into each other's apartments, like the cast of Seinfeld , or Mary Tyler Moore and Rhoda, borrowing clothes and gossiping. I hope their glam fortysomething-and-beyond lives are indeed representative of what women can achieve in late midlife. And I do know women in their 40s and 50s who, successful all along, are now enjoying that long-awaited shift into professional overdrive.
Part of me, though, isn't so convinced that they are representative. Age doesn't feel exactly like an advantage, now, at least not in the media industry, which has gone through such swift and wrenching changes-not only economically but technologically. Older workers tend to be expensive, and they can't necessarily aggregate and Twitter. My worry is that when many women pass the 50 or 60 mark, or men for that matter, at least some workplaces will regard them as doddering.
Swartz's piece also served as a weary reminder of how, for women, "sequencing" is such a relentless challenge. The fact that it's so easy for these women to work 24/7 just underlines how much energy is expended, by women, mostly, adjusting to the stages of working and parenting that come before that. When your kids are little, you struggle with whether to work part-time or full-time and what sort of child care is right; this segues into the teen years, when many mothers uncomfortably suspect that what their kids really need is them, not a babysitter, to be home and available to talk through the zillions of treacherous moral choices teenagers are called upon to make every day. This is why lots of women I know ask their bosses if they can get to work really, really, really early so as to be home early as well. (At a certain point you can't work part-time because your other reponsibility is to make enough to send them to college.) Sometimes the answer is yes, and sometimes it's a puzzled comment: "Your kids are teenagers-they don't need you anymore."
Just recently a friend talked to me about how, if her employers would just give her a few more years of flexibility to get her last child into college, she'd gladly move into the city and come into the office 80 hours a week, work all the time, dedicate herself, monastically, to work. I overhead another mother talking about how much she loved her son but how in a way she was looking forward to when he went to college and she didn't have to rush to get him from after care any more. If we're not careful we'll end up wishing our lives away.

And here's the thing: This wasn't supposed to be an administration dominated by female empty nesters. It was supposed to be a family-friendly administration where it was possible to be a working parent and actually parent. Back in January, Jackie Norris , a mother of three young children, said upon taking a job as Michelle Obama's chief of staff that she expected to "work my heart out during the day and work my heart out as a mother at night." Now Norris has been replaced by the empty-nester Sher, and Ellen Moran , who has two young children and who started out this year as White House communications director, has left that post for family reasons. It's great that older women are coming into their own, but does this mean that the younger ones are washing out? Or burning out, rather? And without them, how can an administration that has set out to improve the nation's work-family policy show the way?
Photograph of Desiree Rogers (left) and Valerie Jarrett by Paul Morigi/Getty Images.