Take a Coffee Break with Jimmy McNulty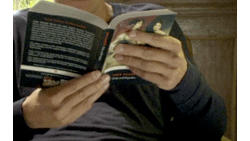 Carte Noire, a British coffee brand, has a new online video campaign directed smack at cubicle-dwelling, former English majors (i.e., me). Every week, a hottie actor of the Anglo persuasion reads a love scene from a new or classic novel. Here's Dominic West-Jimmy McNulty of The Wire -reading the scene from Pride and Prejudice in which Mr. Darcy declares his love for Elizabeth Bennet.

I can't tell what I like more about this clip: the cosy, English-country-home vibe (the armchair! the books on the windowshelf!) or West's own "luxurious, velvety flavours." It's not quite up there with the Taster's Choice soap opera , but then, what is? Shameless, yet delicious.

Thanks to Farhad Manjoo for the tip-off!
Image is a screenshot from cartenoire.co.uk.