Does Miscarriage Belong in a Comedy?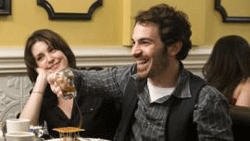 I agree with Dahlia about the pole dance of grief in Away We Go: The amateur night performance of barren Munch Garnett (Melanie Lynskey), while riveting and poignant, indeed seemed like it belonged in a different movie. Like Dana , I thought the quirky, uneven road movie had some great moments along the hapless, mapless, trip of expecting parents seeking their adult selves. For example, Maya Rudoph was a pitch perfect Verona, asking her goofy but loveable boyfriend, Burt (John Krasinki), "Are we fuck-ups?" (My husband, who usually is a good sport about chick flicks, audibly conceded that indeed they could be.)
When miscarriage and profound disappointment were added to the narrative, though, the couple's journey became about more than simply growing up the hard way. Perhaps director Sam Mendes has his own issues over fertility? As Dana warned us last year, the mid-century unplanned pregnancy in Mendes' Revolutionary Road (starring Mrs. Mendes, Kate Winslet) was not resolved "by a happy family picnic." I was, nevertheless, happy to see Lynskey in the complex role of Away We Go 's mother who could not bear children. It was a big leap from her role of Rose, a multifaceted stalker on the long-running CBS comedy, Two and Three Quarters Men , and I was glad to see her acting range.
Photograph of Melanie Lynskey and Chris Messina in Away We Go courtesy of Focus Films.