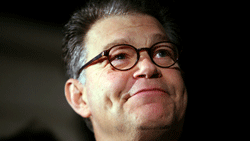 The Minnesota Supreme Court just ruled 5-0 that Al Franken is the winner of the contested 2008 Minnesota Senate race, by 312 votes out of 2.9 million cast. Finally, right? Minnesota has been down one senator for almost half a year. That's already too long. The state shouldn't have to half sit out the summer's big business on Capitol Hill: health care, the energy bill, and the confirmation hearings for Judge Sotomayor.
But there's one avenue left for Norm Coleman, Franken's Republican opponent, and that's a federal lawsuit. From a legal standpoint, such a suit would be extremely dubious, for reasons election law expert Rick Hasen explains here . It would depend on reviving the Supreme Court's ruling in Bush v. Gore , which as you may remember was supposed to be a one-shot deal. (The court said then that application of the decision was limited to "present circumstances.") But from a political standpoint, the picture is much more mixed. The national GOP has plenty of reason to fight on, since seating Franken will give the Democrats 60 senators. A couple of months ago Senator Lindsey Graham and Minority Leader Mitch McConnell urged Coleman to go to federal court. Since then, polls in Minnesota, however, have shown voters losing patience with the delay in seating their senator. Will Coleman listen to the voters, or to his party leaders in DC? Or will McConnell and Graham and the rest agree that it's time to cease and desist?
ADDENDUM: We have the answer: Coleman concedes!
Photograph of Al Franken by Jeffrey Thompson/Getty Images.